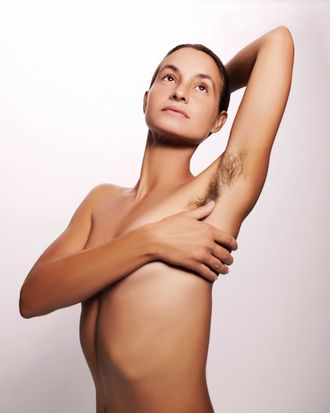 Photo: Thinkstock/Getty Images
Already, this summer is shaping up to be a good time to throw away your razor. Last week, Jemima Kirke flashed some inspiring underarm hair at the CFDAs; meanwhile, "grow underarm hair" is at the top of Lena Dunham's summer to-do list, and Miley Cyrus has been pretty excited about her own pit hair for a few months now.
The New York Times reports that women in China are also hot on the armpit-hair trend. In fact, women's rights advocate Xiao Meili is holding an armpit-hair contest, urging women to share photos of their unshaven underarms on the messaging site Weibo. The online contest, which concludes this Thursday, has garnered more than 1 million page views, as well as submissions from prominent feminists like Wei Tingting, Li Tingting, and Zheng Shuran — three of the activists who were detained in March before a planned campaign against sexual harassment on public transportation.
According to the Times, the feminine ritual of armpit shaving in China only dates back to the 1990s. "I'm not calling on everybody to grow underarm hair," Xiao said. "I'm just saying if some people don't want to shave the rest of us should not think their underarm hair is disgusting, unhygienic, uncivil, or not feminine enough." Prizes for the best pit-hair selfies include condoms, a vibrator, and female urination devices.