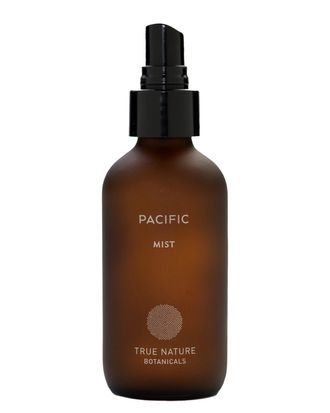 True Nature Botanicals Mist
Photo: Courtesy of True Nature Botanicals
A day at the beach can feel like stint at a sweat lodge if the weather is balmy and breezeless. To skirt an uncomfortable day under the sun, you could pack a useful (but bulky) sunbrella, take up residence in the water (and risk a greater chance of a sunburn), or make like a seasoned beach-going pro and pack a refreshing mist by True Nature Botanicals.
True Nature Botanicals' mist ups the ante in the face-spray game. Unlike other misters, which are solely water, True Nature Botanicals' version is an amalgam of skin-soothing ingredients, such as green and white tea, and black-tea ferment. Jojoba oil and sea fennel hydrate skin, while sea kelp gives each spray a replenishing dose of vitamin C. You can spritz the mist all over (including your hair, if it feels hopelessly dry), but I prefer to spray it over my face for a complexion that packs just the right amount of dewiness. The mist, which is applied with a pump instead of a continuous spray, doesn't leave a greasy residue behind, allowing you to reapply sunscreen, and it's encased in a thick frosted bottle that keeps the enhanced water at a cool and comfortable temperature. With the addition of tuberose oil, the mist takes on the floral scent. It's the one product you need to pack to make a day at the beach feel as easy, refreshing, and fun as a day at the beach.
True Nature Botanicals Mist, $48 at True Nature Botanicals.