Stefano Tonchi on W's Future, Caitlyn Jenner, and More
Photo: Matteo Prandoni/BFA.com/BFA NYC
Midway through lunch with Stefano Tonchi, he takes out an iPad and begins, with one long pointer finger, to gracefully scroll through the covers he's produced over the last five years at W as editor-in-chief.  It's a little bit like watching someone flip through their old high-school yearbook. "This was my first cover, September 2010," he says of a group of then-newcomers, including Jennifer Lawrence and Jessica Chastain. "Seven girls. Three made it big." He points to someone inside the fold. "I can't remember her name. It would be fun to see what happened to the rest." He remembers working with Francesco Vezzoli and Nicki Minaj in 2011: "She had five hours of makeup with Aaron de Mey. And then she said, 'Can I go into the bathroom?' just before we went on set. And she goes into the bathroom with a friend — or what we think is a friend — and half an hour later we are knocking at the door. And she comes out with completely different makeup because [the friend was a makeup artist]. Our hair and makeup people walked out. What you see is the magic of digital retouching."
He ticks off more memorable moments: "Rihanna, we've done. Kim and Kanye, we've done — very early. Beyoncé, we've done." So, when it came time to figure out whom to put on the cover of August's Pop Issue — on newsstands this week — he thought, "Who could we do who is very interesting and has that pop appeal?" He pauses. "Well, what was my favorite show that is coming back in the fall? Empire!" With another swoosh, Tonchi produces a picture of Taraji P. Henson — who plays the show's matriarch, Cookie — photographed by Mert Alas and Marcus Piggott. In a departure from her fur-on-leopard getups on the show, she's wearing a thin white T-shirt and jeans, wet hair, and not much makeup.

"At the end it's always a leap of faith," Tonchi says of deciding whom to put on W's covers. "There are certain characters and certain stories where you don't need a lot of imagination or creativity. Everybody knows that [that story] will be very successful. Everyone knows that is the story. And you get it not because you have talent but because you have power. When you are at W, you have to fight your way in."

It's hard to believe that, five years in, Tonchi still sees the title as a little bit scrappy. After all, the magazine has grown every year of his tenure and, in 2014, launched W Art, a spinoff published twice a year, which is now the largest art publication in the world, with a circulation of 125,000. "It's very interesting that somehow the world is coming around to W," he says. "When I arrived there, it was really a damaged good, it was very on the edge of being closed. It was different, and it was maybe not the moment to be so different. And one of my first challenges was to make it more inclusive because it was too exclusive. Now I think we've come into a moment where it's paid off to be a little different, and to stand out." Tonchi spoke to the Cut about taking risks in the magazine, Caitlyn Jenner, and the future of print.

How do you see W's website fitting into the larger picture of the brand?  
The website is a projection of the magazine. But also, I think now that we are moving into the social-media age, that's where I think it's more challenging. It's important that the people who are doing social media are also working in the magazine. That's why it's great to have Giovanna Battaglia or Edward Enninful or Jane Larkworthy — who are active on social and also active in the magazine. You need to deliver the content in different forms and shapes. I think everybody had the desire to write more, to express more of themselves, to do more stories — and when it comes to social media, to really create their own brand. And the challenge is to keep their brand in line with the W brand.

How has that been a challenge?
Well, it's important for each one of these social-media big successes to understand that they're also part of the W family — and that we don't work in the vacuum. [Edward Enninful's Model Search] is a perfect example, because that was something that Edward started on his own social-media channel, and he put out these ideas and said, "I'm so tired of the same models, it would be great if we had some new models." And the morning after, he had hundreds of comments and people proposing themselves as models. So he came to us and said, "We should do something," so it became the W Model Search. We didn't have the know-how to devote to thousands of people proposing themselves, so we collaborated with IMG. It started from Edward completely. It really started from the personality.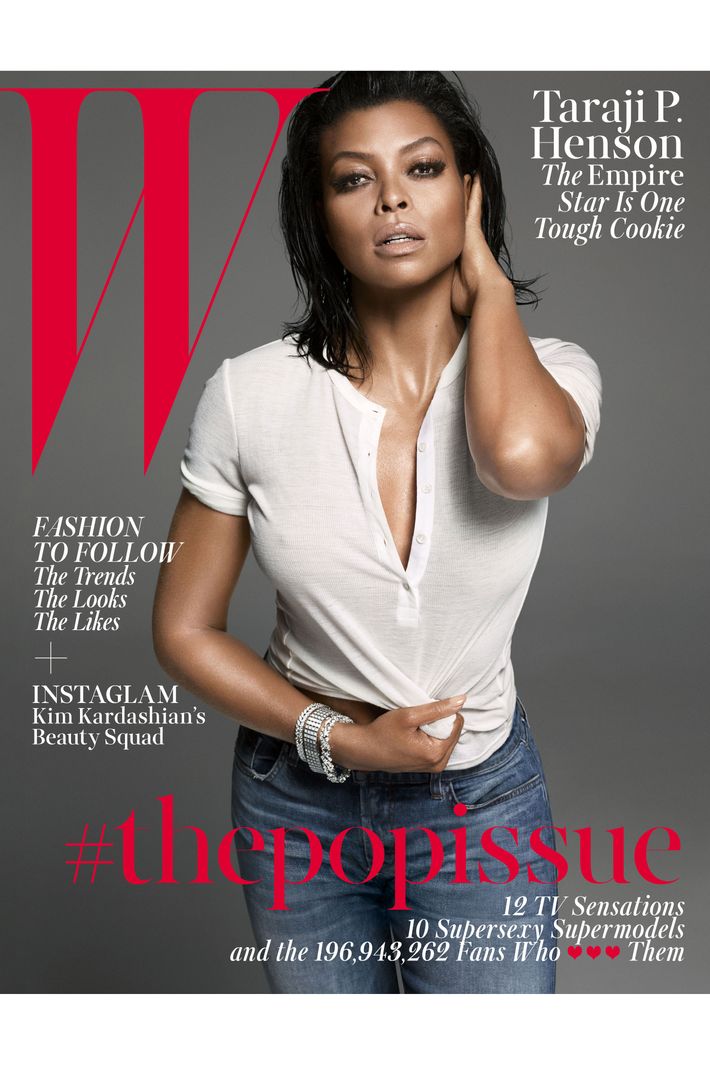 So much of what I do is about personalities. It's about people. I mean, we keep saying, brands, brands, brands, but in the end it's really about people and relationships and ideas.

What are you planning for the web?
We are very excited to work with Dirk [Standen, the former editor of Style.com]. Together we are planning, without going into details, a redesign and relaunch of the website in the fall. We are going on a new platform, so the functionality of the website will be much nicer. We don't want to do what everyone else is doing. We should do well what we know how to do well.

In the midst of all of this, how do you see the magazine being affected? How do you see the future of print?
We are lucky enough to have a product that is very unique. It is larger than any other magazine, it doesn't really fit into the classic idea of a magazine. We deliver — because of the printing and some of the photography we use — something that is really different. We use the best photographers in the world, we try to do covers that are memorable and collaborations with artists so that the magazine already is collectible. It's a very different thing from magazines that are delivering — let's call it service: the six dresses that you want to buy, five tips to get better makeup, or how to apply your red lipstick.

I believe that magazines in print will become more and more like books: more collectible, more special, more unique. Something that you want to hold onto. While I think that what is service and quick information and news will migrate — as it already has — to digital.

Do you think that expectation has made what you do in print even more —
Ambitious? Absolutely. We really try to keep our standards really out there. And we find out that the people we are collaborating with, they want that from us. We were just working with a very famous actress that we are shooting with Tim Walker. It's for December, so I can't tell you who she is. She waited for more than one year because she wanted to do a project with Tim Walker that is in the world of what we did with Tilda [Swinton]. They come to us and say, "Make me W."
What made you want to launch W Art?
What used to be the social scene is now the art scene. When you think about all the museum benefits, all the fairs, from Frieze to Miami to the Venice Biennale — really it is what used to be the party circuit in the '50s. Mr. Fairchild was always interested in the lives of the rich and famous. And collecting art and talking about art is part of that life. So somehow, that has always been in the DNA of the brand. So when I arrived, I brought one of my personal interests — or, I will say, my family interests, because I am married to an art dealer — and I decided to create an art issue every December. We found that we can really go a little bit further and create W Art, which is, believe it or not, the largest art publication in the world.

In 1972, Fairchild founded W as a window into high society with the belief that people wanted to read about rich people with a mix of envy and empathy. How, as you see it, has that society — and our relationship to it — changed?
We have been using the past not to talk down but to talk to. It was a one-way relationship. We would spy on the [lives] of the rich and famous and we would send the magazine to the readers as a final product. Now the readers get back to you. It's a conversation. And now the rich and famous manage their own image.

How does W stay true to its mission of being a voyeur into a rarefied world while simultaneously being a part of it?
Well, we still try to have our point of view. When we put together the art issue, for example — sure, we look at the market because we want to document that, but at the same time, we also want to discover, to take risks and bring people who are not very well-known in the mainstream. It's the same way we deal with fashion: We like to cover what the big players are doing and also propose new things, to discover and support young designers.

When I arrived at W, one of the biggest problems — and there were many, from the staff to the budget to the financial situation — but one of the biggest was that you could not see the clothes anymore. There were no trends, there were no seasons. There were like, 50 pages by Steven Klein. That's fine if you can balance the activity with some form of — I don't want to call it service — but reality. [Now in W], you see the trends. You don't see them the way you do in Marie Claire or Bazaar or even Vogue, where whatever the name of the headline is what you're going to see. But you do see the clothes. And then you can go online and look at another magazine to see where to find it, and where to find it for cheaper. That's not what we do. We create the dreams.

What did you think of the Caitlyn Jenner Vanity Fair cover?
I think it's a fantastic cover. It shows the power that magazines still have. I'm so happy that it didn't come from the web. It came from a printed magazine. I think it shows that magazines can still make news, are still able to create great imagery.
To what extent, when you're planning whom to put on a cover and how to present them, do you consider whether it's going to make a big splash on the internet?
You need to consider your digital audience because of the numbers. That's where things are going. I'm talking about big investors that only put money in these big digital companies. Where is all the money going? To Tumblr and to Instagram. I think what Anna [Wintour] is doing with digital and what Anna is doing with the Met [Gala] is quite exceptional. She cast the Met for the digital world.

How?
I don't think Anna does anything that she doesn't plan. To have in the same room, at the same time, Kanye and Kim and Beyoncé and Rihanna and Miley Cyrus — was a very thoughtful decision. I think it's important to show that Condé Nast and Vogue and magazines can still produce great content.
Are people harder to surprise than before? Has everybody already seen it all?
It's more that everything is available so fast. But I think people are still very interested in great content and a great idea.
This interview has been edited and condensed.