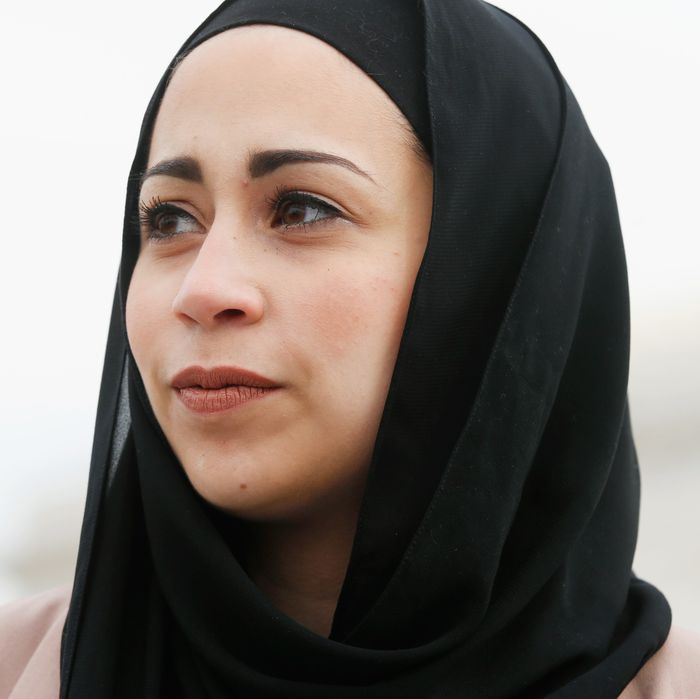 Samantha Elauf, the plaintiff in the case.
Photo: Jum Bourg/Corbis
The Supreme Court has a big problem with Abercrombie and Fitch's "look policy" for employees. In February, plaintiff  Samantha Elauf's case against the retailer made it to the Supreme Court, which ruled today, with an 8–1 verdict in favor of Elauf. (The one dissenting vote was cast by Justice Clarence Thomas, though, according to CNN, he "dissented with part of the ruling but concurred with the rest.") The case turned on the court's interpretation of Title VII of the Civil Rights Act, which prohibits employers from discriminating against potential employees for reasons of gender, race, color, national origin, or religion.
In 2008, Elauf interviewed for a retail associate job, only to be told that her traditional Muslim headscarf violated the "look policy," which prohibited headwear of all kinds (and also restricted things like hair highlights and fingernail length — some of its contents can be seen at BuzzFeed). The Supreme Court justices debated whether this constituted religious discrimination, or whether Abercrombie was unaware that the headscarf was worn in a religious capacity. (Justice Alito suggested a somewhat bizarre hypothetical during the oral arguments: "Maybe she's just having a bad hair day so she comes in with a headscarf, but she doesn't have any religious reason for doing it.") The majority ended up concluding that Abercrombie was guilty of religious discrimination in this situation. As Justice Antonin Scalia wrote in the majority opinion, "An applicant need show only that his need for an accommodation was a motivating factor in the employer's decision, not that the employer had knowledge of his need."
Said P. David Lopez of the Equal Employment Opportunity Commission, which brought the suit on Elauf's behalf, "Monday's case is the latest effort to ensure all persons protected by Title VII are not placed in the difficult position of choosing between adherence to one's faith and a job."