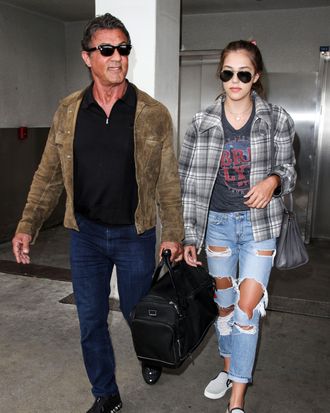 Photo: Image Press/Corbis
On a beautiful summer day last week, Sylvester Stallone strolled into One World Trade Center with a dream: to visit the offices of Vogue. It's not because he's a fan of leaping models, or that he was dying to meet Grace Coddington, but rather to accompany his 16-year-old daughter, Sistine (SISTINE!), to a go-see. (You know those millennial parents, trailing their kids everywhere.) According to her dad's Instagram, Sistine "wants to be a serious model," and what better way to pursue that goal than a rendez-vous with the top Vogue brass? What followed, at least as reported by "Page Six," was an epic of highs and lows that is only missing an actual sparring match. We now take you ringside.
The action star faced, according to the column, a struggle "tougher than going 12 rounds with Apollo Creed" when he attempted to enter the Frank Gehry–designed monolith.  Said an "insider" (presumably someone who just hangs out in the lobby preparing to feed us these tasty gossip hors d'oeuvres) "There was confusion about which entrance to use at 1 World Trade Center, then Sly and his group were held up at security. They couldn't reach the right person at Vogue's offices to get them immediate clearance to go straight up." Oh, no!
So of course, Stallone started punching his way through an army of security guards — jab, right hook, jab! Just kidding: He totally held it together like the responsible parent, Hollywood veteran, and noted philanthropist he is. "Sly was a complete gentleman about it and didn't make a scene. They waited, and when it became clear they couldn't go up to the Vogue office, they left," said the insider. If only he had thrown back his head and yelled, "ANNNNNNNAAAA!"
But here's where another insider enters the picture, and things get all Rashomon. A totally different source, perhaps located behind a decorative palm in the lobby, offers a wildly divergent take on the conflict. "Security never told Vogue that Sly Stallone was waiting downstairs," this insider proclaims confidently. Crossed wires? A technical flare-up? Or could this be the work of … the Soviets? (Both Vogue and Stallone declined to comment to "Page Six" — not on the Soviet thing, but just in general.)
More important, what is going to become of this mythical meeting? Is Stallone just going to give up? Hang up his gloves? Think again. According to yet another shadowy source, the meeting has been rescheduled for the coming weeks. Looks like Stallone and the forces of bureaucratic office-building evil will live to fight another day.