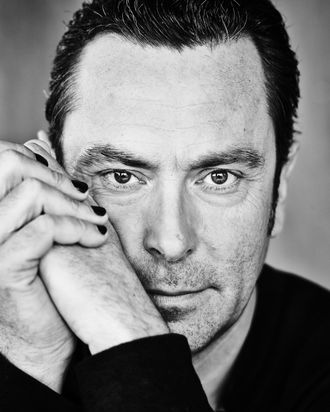 The world knows Catherine Deneuve as a blonde, but her colorist, Christophe Robin, knows the truth: Deneuve is actually a brunette with long-standing salon appointments at Robin's Hotel Meurice salon in Paris. Deneuve has been bleaching her hair for 20 years, and the legendary actress is an unofficial adviser and fan of Robin's new self-named line of "haute couture" hair care, set to launch soon at Sephora. "She comes once a month to the office when we talk about the product," Robin explains. As a past hair consultant for big-name beauty brands who achieved fame working with '80s supermodels like Iman, Robin knows the truth about product formulations. "They say it is a honey-based hair product, but you know, it is really 0.0001% honey!" or contains silicons and other more price-conscious ingredients, he told the Cut. In contrast, his luxury hair-care line is heavily botanical based, without soap, sulfates, or silicons. His Prickly Pear Hair Mask has a purported 10 percent pure prickly-pear oil. Here, he talks to the Cut about why he believes in no-soap shampoo, how he escaped from a farm to work with Deneuve, and why he thinks hair trends are extinct.
Your product line stresses hair cleanliness. Yet, a lot of hairstylists talk about not washing your hair too much and not wanting your hair to be too clean.
Well, you should not wash your hair too often because the more you wash it, the more it's going to be greasy. Your scalp will want to defend itself with oil. When you wash your hair every day, you dry your hair and most of the time when you dry it, it's too hot. The water is boiling into your hair when you use a blow-dryer.
Why are you against detergent and pro "low-poo," as they call it?
It's been my thing for 20 years. It's good especially when you're curly and your color is fragile. It takes time for your hair to adjust, especially when you're used to silicones. Silicones are like fake nails in that they grab and grab. The process for removing fake nails is like when you try to remove silicon. Your hair becomes very dry and stripped, so it takes a little while but it's worth it. Our products don't have sulfates or SLS. Oftentimes, people shampoo, use conditioner, don't rinse properly — and that leaves a silicone that coats your scalp and it can't breathe. Then it gets greasy and you have to wash it again.
Some people say that low-poo makes the hair too flat. It's true that when you wash it with non-detergent shampoo the natural dirt stays around your hair, so it's a little heavier. Use a vinegar spray behind that and it's going to give it more density. Vinegar closes the cuticle because it has the pH of an acid. It removes and dissolves all of the sebum and the calcium-containing top water. It also dissolves the silicones in your hair.
How can you tell if your hair is in good condition? Some say there is a trick where you can see if a strand of your hair floats in water?
No. No, that's just silly. If it takes forever to dry it's because it's very porous. If it keeps the color in, your hair is also in good condition. If your color becomes brassy very quickly, it's because it's not in good condition. You can feel it usually.
How did you start your career?
I grew up on a farm in a little village of 160 people. I was supposed to be a farmer, but I escaped when I was 14 years old. I arrived at a salon and right away, [the woman] there trained me. She said to me, "You will never be able to get a beautiful hair color if you don't take good care of the condition of the hair." When I was 17, I arrived in Paris and started to work with the top models. At the time, hair color was not yet a trend — it was seen more as a way to cover grays or to do blonde.
Thanks to Stephanie Seymour and Iman, and all of those top models, I had to create products to maintain their hair. Two of my formulations, the cleansing mask with lemon and the lavender oil, are 20 years old and they never change. I love when you say to a woman that she looks good, not that she has a good hair color. I'm not into the big challenges — I can do them but I'm much more into something that's going to last forever and be low-maintenance. I believe in doing a brunette that never turns brassy, with as little oxidation as possible, and with the right products and with a lot of care. Because when you're a brunette and 40 years old and you start to cover your grays and it turns mahogany and brassy, it is horrible.
How did you come to work with Catherine Deneuve?
One day the phone rang when I was closing the salon. And I heard a voice say, "Hello, this is Catherine Deneuve." I was kind of shaky because she's a queen of France.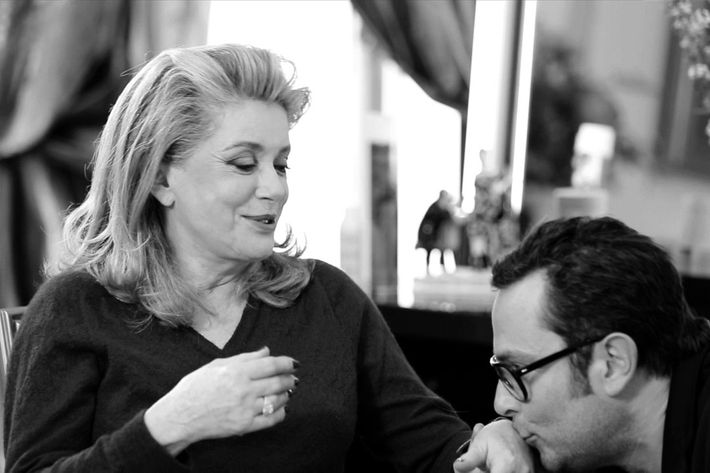 Everybody always follows what Catherine does so it was a great chance to have her. Once she came, all the other actresses came, like Vanessa Paradis and Kristin Scott Thomas. She's still my client after 20 years and she's even involved a lot with the products because she knows about hair. She started to bleach her hair when she was 17 or 18 years old so she knows a lot about cosmetics. She comes once a month to the office when we talk about the product. We show her what we want to do, she tries it, she gives feedback, and she's truly got the best eye.
What was it like to touch her hair for the first time?
When I was a child I was in love with her, I had a poster of her in my bedroom in The Umbrellas of Cherbourg. She saw I was impressed, so she kept her head down the whole time for her eyes to never cross mine. She knows about her power to awe people. So to not awe me, she always kept her head down, which made it very inconvenient to do the front hairline.
She is very discreet and wants to keep her personal life. It took ten years to get her to trust me because she really hides her personal things. I love that because not everyone understands that way of being with Instagram being all, "Me with makeup, me without makeup, me taking a shit." But I truly believe that you only can be a myth if you don't say too much.
What do you think of hair trends?
What are trends? We could talk about trends 15 years ago, but we can't talk about trends now. Nobody gives a shit. Now everybody expresses themselves on YouTube, everybody wants to embrace their personality and show it, there are no trends. The only trends are from the marketing of a company that wants to sell you something. I love that people don't want to follow dictates anymore. They want to be true to themselves, which is the best thing, you know? And they want to embrace it and express it.
This interview has been condensed and edited.