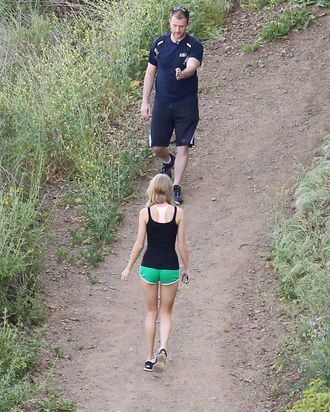 Taylor Swift.
Photo: NIKO SPOT/AKM Images / GSI Media
Earlier this year, a normal photo of Taylor Swift on a normal hike emerged on the internet. The photo showed Taylor walking backward down a dirt hill, which, as anyone who has ever been on a hike can tell you, is a normal way to make things easier on your poor, tired legs while walking downhill.
However, Taylor recently took it upon herself to clarify that this is actually not a normal photo at all. "I saw the guy with the camera and wasn't in the mood so I hiked the whole trail backwards and my security guards told me when to make turns," she wrote on her Tumblr, meaning that she must be a true expert at telling her left from her right. Consistent with her characteristic perfectionism, it turns out that Taylor has actually been practicing this maneuver for a while: She was seen executing a similar stunt in a parking garage in March.