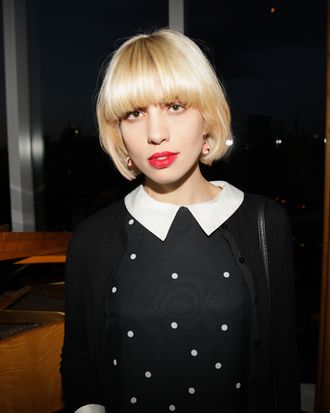 Nadya Tolokonnikova.
Photo: Ben Rosser/BFA.com
Nadya Tolokonnikova, one of the most visible members of the Russian punk-feminist collective, Pussy Riot, and Terry Richardson, a notorious photographer and alleged sexual abuser, would seem like unlikely collaborators. Yet, on Tuesday, Richardson posted a set of photos of Tolokonnikova and her husband, Pyotr Verzilov, posing goofily (and fully clothed) in his studio.
According to Death and Taxes, Tolokonnikova also posted the photos to her Facebook page, writing (via Google Translate, reports Death and Taxes), "it was really one of the most powerful of photographers with whom I in my tender age of twenty-five have met." In response to a commenter who challenged her decision to pose for Richardson, she responded: "Visiting guests invited to be photographed — I did it. Try not to miss opportunities to learn from the experience of professionals." The post and photos appear to have been since deleted from her page but are still up on Richardson's site.
As Jezebel's Julianne Escobedo Shepherd points out, it's plausible that Tolokonnikova was unaware of Richardson's past. She doesn't speak much English — and, after all, Richardson continues to enjoy steady employment in the fashion industry and the support of friends in high places. It's not clear yet which outlet commissioned the images, but the editor who assigned them either has no sense of irony or a very dark one.