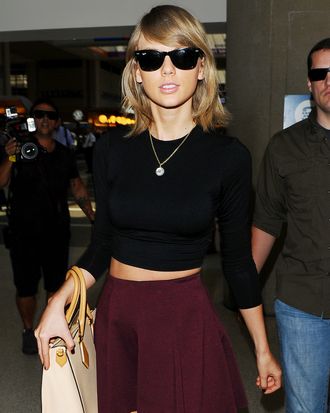 Photo: Splash News/Corbis
Have you heard? Beloved crop-top activist and wildly successful pop star Taylor Swift has saved the music industry — again.
Over the weekend, Swift took time off her world tour to write a note to Apple saying she would pull her albums from its new streaming service if it did not properly pay artists. Apple kowtowed in record time, and Swift single-handedly changed music streaming forever with a single Tumblr post. But that's not the only revolutionary act of one Taylor Alison Swift: Here are a few of the other things she's managed to change forever — you know, in her spare time.
• The entire music industry
• Belly buttons (having and not having them)
• Country music
• Pop music
• Red lipstick
• Feminism
• Car racing
• Crop tops
• Cat ownership
• This girl's life
• Moving to New York
• Lunch attire
•  Girl gangs
• Everything