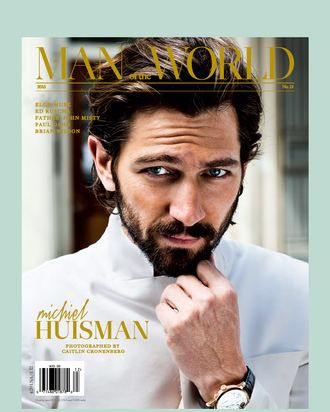 Photo: Courtesy of Man of the World
Michiel Huisman is probably the hardest-working man in television these days. You may have noticed him on Nashville as hunky Liam, Rayna James's mancandy, or as Sarah's sensitive lover, hunky Cal on Orphan Black. But his real breakthrough is on Game of Thrones, where he plays Daario, the (often bare-assed) hunky sex-friend of Queen Daenerys.
From his time on these shows, he's gotten very good at both pleasuring strong, independent women on command and just standing there, looking delicious, allowing us to fully appreciate his fineness. And on top of letting the audience bask in that butt, he's totally cool with being objectified — unlike some other hunks out there (ahem, Kit Harington). He tells Man of the World all about his acceptance of the gratuitous butt-shots that have made him famous:
"Well, if I wasn't comfortable with it, this would be a terrible time for me," he says. "I'd better hide under a rock  until everybody forgets about it." His wife, Dutch actress Tara Elders,  whom I meet later, seems equally amused. "It beats the alternative: People saying your husband's ass is ugly.
Huisman also tells the magazine that he's a feminist, which might explain why he's totally cool with us all making GIFs of his butt for purposes of shameless objectification.