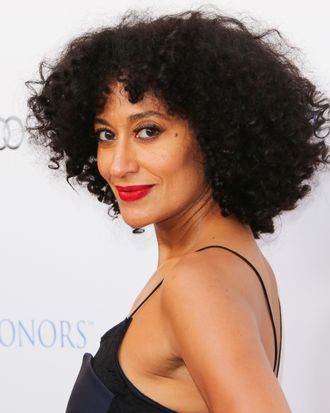 Tracee Ellis Ross.
Photo: Paul Archuleta/Getty Images
This week, the Cut is talking advice — the good, the bad, the weird, and the pieces of it you really wish you'd taken. Here, actress and Black-ish star Tracee Ellis Ross on letting go of the unrealistic goal of perfection.
When I first started auditioning, I found it impossible to do it the way I did it in my room. To be the way I was privately, in front of other people. I was trying to be my best self. Somehow, underneath my best self, it wasn't good enough. Eventually I discovered that who I was was actually what I needed to bring to the table. It was a weird, tangled thing, and it took countless auditions.
Everyone's always like, "Be your best self!" And that drives me bananas, because when you're not, it makes you feel really bad. And so someone asked me the other day, "When are you your best self?" and I said, "When I make space for my worst self." Like if you ask yourself, "How long will it take to do this particular thing?" and you're freaking out like, "I don't know! It's going to take me so long! I don't know! Ten years?!" Well … what if you give yourself ten years? "Oh. Okay." And then somehow, the thing you thought would take ten years only takes a week. Give yourself permission to actually let something take as long as it takes.
My standard of perfection often paralyzes me, or makes me terrified, or makes me feel ashamed. Instead, if I can make space for the idea that the goal is not to be perfect, but the goal is to be me, then I get to revel in the mixed bag of what it is to be a human. Some moments are good, some are bad. Some days are good, some days are bad. We live in a culture where people are constantly telling us how to get what we want, and within that message is, You need to be something other than you are. So my antidote to that has been, What if the goal is not to get what I want, but to discover who I am, be who I am, and accept that? Because strangely, that takes courage!
As I get older, the more I stay focused on the acceptance of myself and others, and choose compassion over judgment, and curiosity over fear. What a strange and interesting thing to be 42! I am not married. I don't have children yet. So what does that do in a culture where that means something went awry? I don't think something went awry, I just think I haven't met my partner yet. Am I looking for my partner, or am I actually on a quest to live a fulfilling life, and hope that by me doing that, I find a match? Career-wise, there are so many things where you don't get what you think you want. I've had to make space for: "Do I let that debilitate me, and make me feel bad about myself? And make me feel like I need to change myself in some way?" Because I think changing myself is very different from growing and learning. The thing I'm really after is an experience that feels good. My life is a series of experiences that I'm trying to tie together, because at the end of my life, I don't want to be like, "Look what I got!"