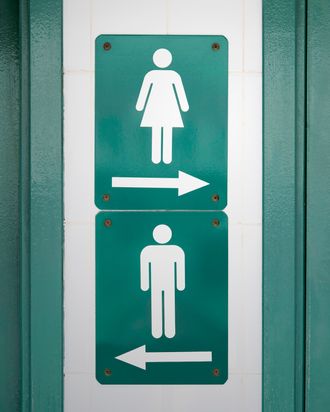 Photo: Mike Warren/Corbis
The ACLU filed a federal lawsuit yesterday on behalf of a 16-year-old transgender student whose school board has forbidden him from using the men's bathroom. The student, Gavin Grimm, says that he informed his high school in Gloucester, Virginia, that he was a boy last August, and received permission to use the men's bathroom from the principal. However, after complaints from religious groups and parents, the school board voted to prohibit Gavin from using the bathroom of his choice in December.
The policy change, which passed in a 6–1 vote by the school board last winter, states that use of male and female restroom and locker facilities is limited to students with "corresponding biological genders." Under the policy, the school did create gender-neutral bathrooms, yet in the suit, Grimm argues that this solution is stigmatizing and undermines his social transition. He told ABC News that, as a result of the rule, he often avoids using the bathroom at school altogether, or else goes to the nurse's room.
"The people of my community had a discussion about where I could use the bathroom — and my genitals and anatomy — that was mortifying and dehumanizing in a way I can't begin to describe," Grimm told BuzzFeed News. Grimm's complaint alleges that during a community meeting about the policy complaint, one speaker referred to him as a "freak'" and compared him to a person who thinks he is a "dog" and wants to "urinate on fire hydrants."
The ACLU suit argues that, under Title IX, which bans sex-based discrimination in schools that accept federal funds, Grimm has a constitutional right to use the men's bathroom. Earlier this month, the U.S. Occupational Safety and Health Administration published a "Guide to Restroom Access for Transgender Workers," stipulating that employees should have access to bathrooms that correspond to their gender identity.