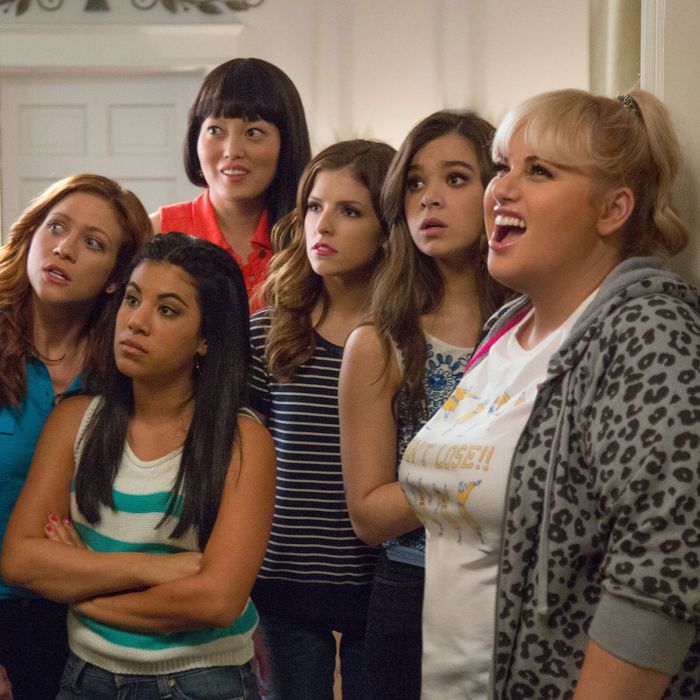 Photo: Richard Cartwright/Universal Pictures
I wasn't expecting cinematic greatness from Pitch Perfect 2, which I saw last weekend at a mall in suburban Los Angeles. The New Yorker had warned me that the sequel to the 2012 hit about a college a capella group "falls apart at the level of the script, before it ever gets to the camera." But I'd loved watching the original with my girlfriends, I'd reblogged many a GIF of Rebel Wilson as Fat Amy, and so I paid my $11.75 for a matinee ticket. I am not embarrassed to tell you that I laughed and I cried — specifically at the final a capella number, a choral rendition of Beyoncé's "Run the World (Girls)" mashed up with a Jessie J song. The New Yorker wasn't wrong about the plot, but I didn't care. Which puts me in good company.
Despite lukewarm reviews, Pitch Perfect 2 is killing it at the box office and on the pop charts. Its star, Anna Kendrick, recently told the Times that she chooses roles based on whether "this is something that the 15-year-old me would be excited to do." While that once might have sounded like faux modesty, after Pitch Perfect it seems to be a solid career strategy. The sequel is outselling big-budget summer blockbuster Mad Max: Fury Road. This is thanks to girls — and women like me who remember what it was like to be one. "Hollywood may have finally cottoned on to something the music industry has known all along: tween and teen girls are a loyal audience," writes Forbes.
The "girl movie" — younger sister of the much-maligned "chick flick" — has long been a derogatory label at worst, and a narrow niche at best. Most of the venerated films of the girl canon received withering reviews upon their release. "Despite its literary quasi-pedigree, Clueless doesn't have much more than these scattered gags to keep it going," sniffed the Times in 1995. Of cult cheerleading classic Bring It On, moviegoers were prepared to expect "a slice of diet cheesecake, a 'Coyote Not Quite So Ugly.'" Mean Girls fared somewhat better among critics — The New Yorker called it a classic in 2014.
Not that girls really care. The movies that teen girls love become classics because they are so much more than films: They are bonding opportunities. Girl movies inspire such fervent fandom because they are seamlessly woven into young female friendships with each reblog and sleepover screening. Girl movies play by a different set of rules.
The traditional definition of a "chick flick" is a romantic comedy about a relationship. The girl movie has women at the center. (In this way, some movies marketed at adult women, like Bridesmaids, are really girl movies at heart.) While there's often a love interest thrown in, the plots of girl movies primarily explore the support and competition and nuances of friendship. In Pitch Perfect 2, Kendrick's character grapples with balancing her burgeoning career with her devotion to her a capella friends. Her boyfriend is a cardboard cutout in the background. This is surprisingly rare in mainstream movies. We crave girl movies because female camaraderie — with all of its complications — is rich and underexplored cinematic fodder.
While most girl-movie protagonists are aware of feminism and want to do well by other women, they can be confused about the ideology's real-life applications. Aren't we all? Mean Girls plays this for laughs: "Ex-boyfriends are just off-limits to friends. I mean, that's just, like, the rules of feminism," one of the Plastics says. But trying to do well by other women while also doing right by yourself is complicated. Perhaps this is one reason why girls like to watch together: to see their group dynamics reflected onscreen. Indeed, at Pitch Perfect 2 screenings, "Young women arrived in groups of five, seven, or more, eager to see a movie made by women, about women, starring women," Fusion reports.
All of the classic girl movies push back against the various pressures young women are subjected to, from relentless perfectionism to slut-shaming. Fat Amy announces in the first Pitch Perfect that she has given herself this name "so twig bitches like you don't do it behind my back." The sequel reverses the trope of the #foreveralone fat girl. When her casual hookup tries to make her his girlfriend, she refuses, saying, "I'm like a wild pony! I can't be tamed." Sometimes girl movies skewer class divides and body image in a single line. Says a salesgirl in Mean Girls to a queen bee who's recently put on weight, "We only carry sizes 1, 3, and 5. You could try Sears." It's a joke about how the mall makes you feel bad about yourself — not a joke at the expense of girls who can't afford or fit into designer clothes. But of course it's not all harmonizing and shopping. The modern girl movie does not shy away from period references and scatalogical humor. Yes, girls laugh at dick jokes. Yes, girls say "fuck."
"Having more female-driven film has gone from being a trend to being the norm," reports the Los Angeles Times. I wouldn't go that far. There's still plenty of room for more — and better — girl movies. Both Pitch Perfect films feature some lazy racism, and for all their transgressive plot points and dialogue, girl movies on the whole have been dominated by straight, white, skinny characters. As Anthony Lane wrote in his 2004 Mean Girls review, "It's all very well to satirize perfect white females, but if you're sick of their attitudes why single them out as protagonists in the first place? What happened to the Asian Nerds? Or the Unfriendly Black Hotties? Or the tired teachers? Why can't we see a movie about them?" Now that there's a proven formula for captivating teen girls, Hollywood should feel free to appeal to an even wider swath of girl culture.