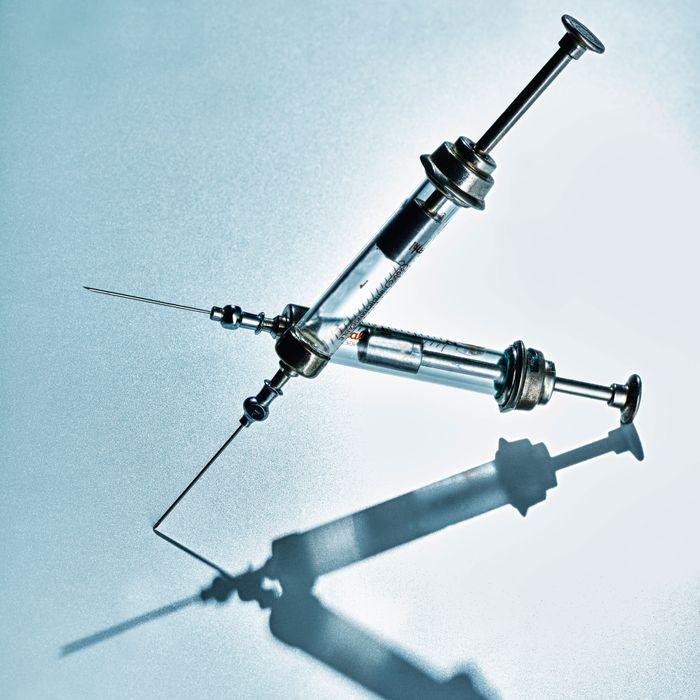 Photo: Hermann Mock/Westend61/Stillfactory/Corbis
So far, we have vaccines for two STDs: HPV and hepatitis A and B, but preliminary findings suggest that a third could be on the way. A study published in Science found that a vaccine given to mice protected them from chlamydia for six months. Slate reports that this study could lead to further research in humans and maybe, several years from now, a vaccine that could help reduce the spread of this awful disease.
Chlamydia is sometimes called the silent STD because it doesn't cause symptoms in most people and experts think it's underdiagnosed: There are an estimated 2.8 million cases annually, though only 1.4 million were reported in 2013, according to the Centers for Disease Control and Prevention. While it's treatable with a single dose of antibiotics, if left untreated, it can cause pelvic inflammatory disease (PID) in women and lead to infertility and dangerous ectopic pregnancy. The CDC recommends that women with new or multiple sex partners get tested yearly for chlamydia and gonorrhea, which can also cause PID, and use condoms. (Men with chlamydia rarely have health problems.)
Meanwhile, a sexual health organization in Norway is getting people talking about chlamydia and condom use with a campaign titled "Penis Can Surprise You" in which a 19-year-old man wearing a dong costume sneaks up on people and sprays them with gold confetti. Silent, but sparkly.