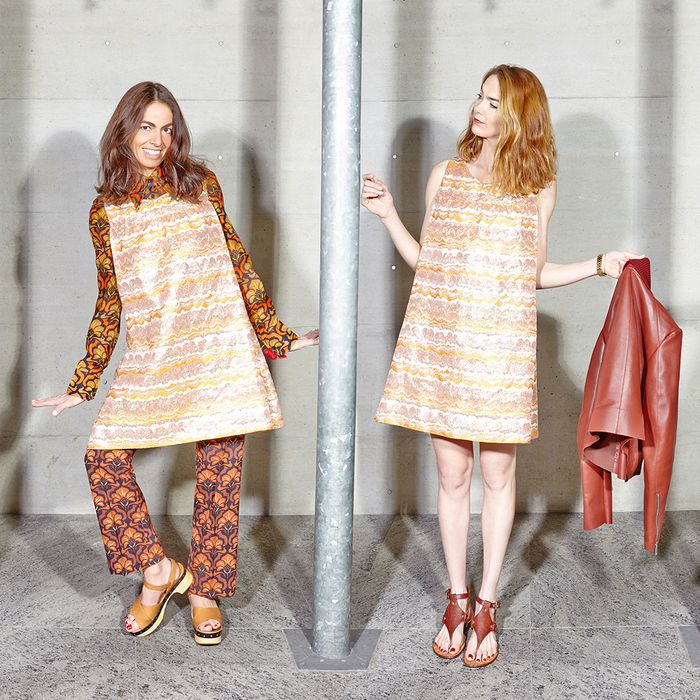 Photo: Courtesy of La Double J
Earlier this year, we called La Double J — the e-commerce site created by J.J. Martin — our favorite vintage shopping site on the web. Part of its appeal had to do with Martin's ability to scout one-of-a-kind vintage pieces and put them on Milanese women in their perfectly appointed homes, and part of it was the thrill of seeing vintage clothes mixed together with current-season pieces. La Double J makes 50-year-old items look like what you need to wear now. 
The site's new recurring feature, Vintage Wars, elaborates on that theme: What happens when you give a single vintage piece to two stylish women and ask them to wear it however they want? Every week, we'll bring you a new installment: one piece, styled (and modeled) by Martin and her impossibly chic friend, Viviana Volpicella. This week, a 1960s gold lamé minidress.  
J.J.: Believe me, I'm all for mixing prints. But aren't the printed pajamas UNDER the vintage lamé dress a bit much, Viv? I mean, it's even a little over the top for me.
V.V.: This look is dedicated to Prada and Manuela Pavesi! They invented this look – in fact Manuela always shot her photographs while wearing Prada pajamas. My pajamas are from Prada, too, and the vintage dress really looks like Miu Miu.
J.J.: I love Miu Miu, worship Prada, and adore Pavesi, but I say take it down one notch and do either or. You're giving me a massive headache. I love the pastel metallic dress mixed up with ox-blood-colored details: The flat T-strap sandals by Casadei are SO chic, and the leather jacket is a staple by Sportmax.
V.V.: That's not a look.
J.J.: Yes, it is! It's my run-to-the-market-in-the-Cinquecento look! Which is what us Americans in Milan resort to on wardrobe down-days.
V.V.: Yes. Exactly.