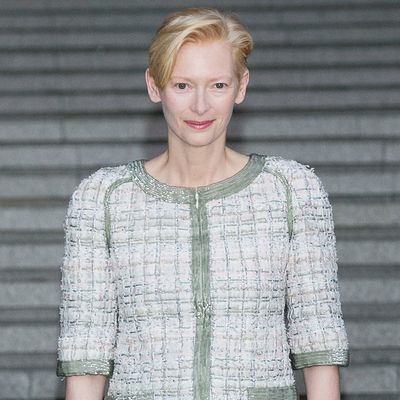 Photo: Han Myung-Gu/Getty Images
Did you know that Tilda Swinton co-founded a school in Scotland? It's called Drumduan Upper School, and has about 17 students — including Swinton's own children, Honor and Xavier. Of course, because Swinton is a beautiful unique alien, the school eschews traditional tropes of schooling, such as desks, tests, grades, and math class, in favor of radically unique ways of teaching.
"… it's incredibly art-based, practical learning. For example, they learn their science by building a Canadian canoe, or making a knife, or caramelising onions," Swinton tells The Guardian, who sent a writer to accompany Drumduan students on a field trip to Scotland's Colonsay island. Students also learn to forage for food, sing medieval songs that make grown men weep, watch Tilda Swinton sweep, and probably master the fine art of sculpting one's hair to look like this as some sort of art elective.
While the school curriculum relies heavily on boat-making and whimsy, it also offers students the practical skills to help them blossom into fully functioning, cool, and rich eccentrics who enjoy wearing caftans on casual yachting weekends.