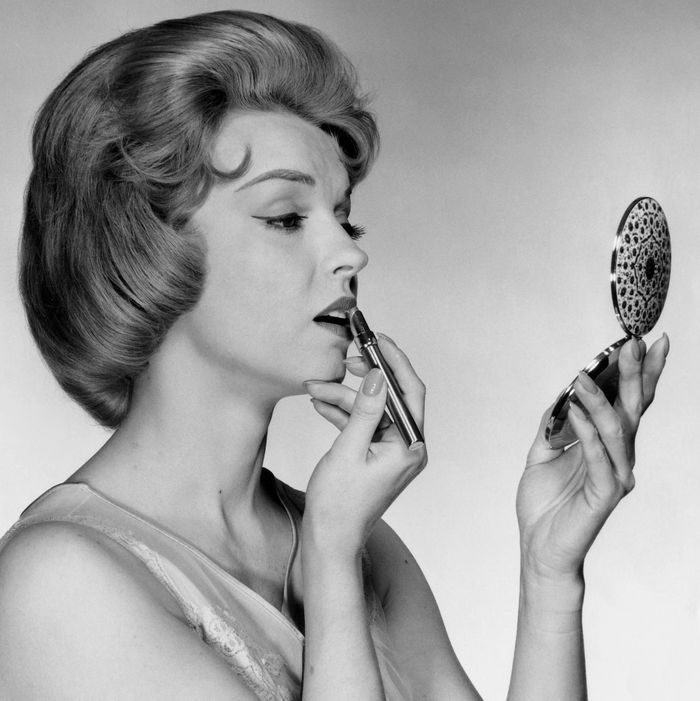 This week, the Cut is talking advice — the good, the bad, the weird, and the pieces of it you really wish you would have taken.
Both the dazzling appeal and the sinking horror of being a beauty editor is that a flood of shiny new products wash over your desk each day, free of charge. Your job is to try and try and try them — forever in search of something better. Even if you start to fall for something, fidelity is a sort of death, in terms of constantly coming up with new things to recommend to your readers. But in spite of it all, you still somehow manage to find the Infallible, the Kryptonite, the Desert-Island-Can't-Live-Without, the One, the Undying.
Many of the items in my makeup bag have been there, faithfully replenished, for at least a decade: Secret Weapon hair cream from John Frieda, Secret Concealer from Laura Mercier (I know, so many secrets), Extra SPF 25 Tinted Balm from Bobbi Brown, YSL's Volupté Sheer Candy Glossy Balm (the name has lengthened over the years, but the gorgeousness has in no way abated), Skin Food by Weleda.
How did they get to (and maintain) their Significant Other status?
As in love, there's the slow-burn route: In the dead-middle-utter-misery of the last recession, I heard about this shampoo called Russian Amber from Philip B. It came in a tub and smelled like fantastic, exotic honey mixed with an oud-inflected perfume … and it cost $140. I didn't even bother trying it — I figured the only people even remotely pleased to hear about such a thing were the mostly male-patterned-bald bankers who'd just plunged the world into economic disaster and gotten away with it; even if some of them did have hair, I was in no mood to make a single one of them happy.
But my friend with flat, unvolumizable hair started exclaiming over it, exclaiming and exclaiming and exclaiming anew. Then another friend with overcolored, slightly frizzy hair started raving, too — her daughter chimed in: "Mommy's hair is finally smooth and pretty." My hair is sort of normal, but I had to try it. And: It made my hair — better. A touch of volume, a touch of smoothness, some shine … However ineffable its effects, I'd be standing in the shower and I'd think, Well, do I NEED to look especially good today? If the answer was yes, I went with the Russian Amber.
This is how you know. If you have to have it on the day you need to look better than you do on all the other days (and are willing to fork over the billions it costs) it's the One, for sure.
Desperation, then, is the ultimate test. If I must have fantastic skin on a particular morning, I put Prevage Night from Elizabeth Arden on the night before; I only use it rarely, lest the magical effect (glowier, smoother, mystically dewy-fresh skin, reportedly powered by proprietary antioxidants in the formula) fade. Not that I haven't tried every supposed skin miracle that's come along; it's just the Prevage — also in Philip B price territory, at $136, though you go through it less quickly — is always better.
I also believe in love at first sight. The minute I applied the YSL Sheer Candy in Pomegranate — it looks like a chic French lipstick in the vein of Catherine Deneuve, but is inexplicably both transparent and intensely pigmented so it brightens anyone's entire face, without looking like … lipstick — I knew it was a forever thing. Every so often I force myself to try something that vaguely resembles it, and it's never as good.
And sometimes the romance is based on the irrefutable evidence that it's just plain good for you: Even though I have breakout-prone skin, I threw some serious fuel on the face-oil fire in its early days. The Shu Uemura Cleansing Oil convinced me that oils could actually benefit the greasy-complected; I tried every oil I could find, when one day I happened upon Intelligent Nutrients (the all-organic line from Aveda-founder Horst Rechelbacher) Oil Serum. Not only did it make my skin look and feel better, I somehow developed the practice of dabbing a bit of it on over my makeup whenever I looked tired before going out, instead of adding more makeup. I liked it, but it was only when I gave some to a friend recovering from a botched Mohs surgery on her face — she'd been told there was no way she'd escape a major scar — and it utterly obliterated any sign of surgery whatsoever that I fell fully and irreparably in love. Since then, the world has embraced the face oil, but still, there is only one for me.
Once you find it — after swiping your way through the beauty aisles, experimenting furiously, staying open, and perhaps risking your rent check for it — true love is the greatest. It's that confidence-a-bottle you've been searching for, that dream you thought never really existed.
So, can you live without it? It's not the One. Keep looking.