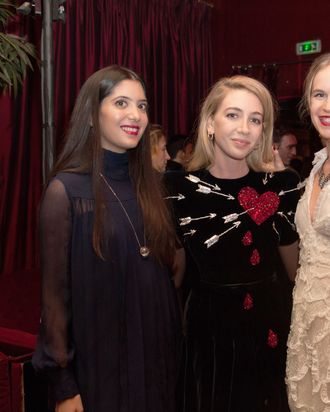 Photo: Kay-Paris Fernandes/Getty Images
Noor Fares and Sabine Ghanem are not only both beautiful, high-society jewelry designers, they're also close friends; according to W, the two socialites have been "hitting the same beaches in the South of France since their teens." (Who hasn't?) Both Fares and Ghanem recently tied the knot in lavish ceremonies just two weeks apart, Ghanem marrying oil heir Joseph Getty in Rome on May 30 and Fares getting hitched to Alexandre Al Khawam in France on June 13. Both weddings boasted over-the-top decorations, gratuitous outfit changes, and posh guests lists, but whose takes the (wedding) cake? Time for a face off.
Outfit Changes
Noor: Two
Sabine: Three
Winner: Sabine, though Noor's actual wedding gown is our favorite of all the looks.
Flowers
Noor:
Sabine:
Winner: Noor. Look at that wisteria!
Celebrity Guests
Noor: Model Jessica Hart, designer Mary Katrantzou, and style insider Nasiba Adilova, according to Harper's Bazaar.
Sabine: Princess Elisabeth von Thurn und Taxis, Princess Beatrice, Julia Restoin Roitfeld, and Bianca Brandolini d'Adda, also according to Harper's Bazaar.
Winner: Sabine. She had princesses in attendance!
Cake
Noor:
Sabine:
Winner: Noor. Her cake is taller than she is.
Hashtag
Noor: #Noormandie
Sabine: #Joebine
Winner: Noor, for punning.
Most Ridiculous Wedding-Themed Accessory
Noor:
Sabine:
Winner: Sabine. Dat glitter.
Media Coverage
Noor: Harper's Bazaar and W
Sabine: Harper's Bazaar and W
Winner: Tie
Final Tally
Sabine: 3
Noor: 3
Everyone's a winner when you're filthy rich!