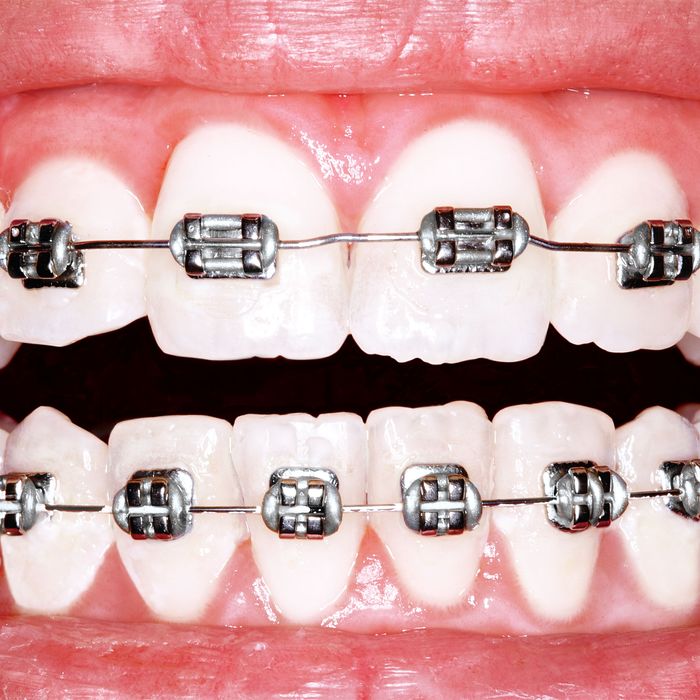 Eighty percent of North American teenagers are currently in an orthodontist's care, with the recommended average age of a first visit now 7.
Photo: Bobby Doherty
"Start check!" a technician called, and Dr. Ben Burris stood up from his MacBook in an anteroom of one of his 22 offices, a recent acquisition in the unlikely empire he's building around the State of Arkansas: as of last year, the world's largest privately owned orthodontics practice. "I mean, it's not rocket science," he said, rounding the corner to return to the immaculate, U-shaped treatment room that was pulsing with activity. Light was flooding through a bank of windows overlooking a strip-mall parking lot and a highway in Siloam Springs, near the Oklahoma border. Seven occupied chairs sat beside seven computer terminals. Technicians — young, all female, each wearing matching slim-cut pink scrubs — were whirling back and forth from the overflowing waiting room to the chairs to a giant island in the middle of the room, where they gathered hardware, chatted, and gooped huge blops of alginate for various orthodontic impressions. Rihanna beamed in via satellite: "We found love in a hopeless place, we found love in a — hopeless — place."
Snapping on a pair of blue nitrile gloves and glancing at the patient's name and information on the adjacent screen, Burris saddled up at the farthest chair. Behind him on the wall hung two marker-board thought-clouds inviting patients to tag their Instagram selfies with "#bracesbyburris for a chance to win a BeatBox by Dr. Dre." Burris is 43, well over six feet tall and burly, with buzz-cut thinning gray hair and a flawless set of teeth. It was not yet 10 a.m., and so far he'd seen more than three dozen patients.
The visibly shaking 15-year-old girl wore an ANARCHY T-shirt and plaid lounge pants, her mouth and lips held wide open by a clear plastic device. Burris began moving the brackets the attendant had already floated atop glue and would use a blue-light-emitting wand to set. "Don't worry," he joked in his South Carolinian drawl. "I watched a YouTube video on how to do this last night." Barely two minutes later, he was snapping on another pair of gloves to remove, with a drill, the brackets and glue of another patient, an 18-year-old who was en route to Army boot camp. After he finished, she sat there, smiling, rubbing her tongue across her suddenly slimy teeth, clutching the clear plastic bag the assistants had given her, full of taffy and Jolly Ranchers and Blow Pops and all the things she hadn't been able to eat, as they suddenly clapped in unison, singing:
Na na na na na na na na na
Today's your big day
Today's your big day
Mighty mighty big day …
Before the vinyl of her chair had cooled, it was occupied again, now by a pimply boy with Justin Bieber hair who sat staring out the window. It was as if you could feel the memories being made, the particular view of the cars streaming down the Arkansas highway, Burris and the technicians, childhood, home, all of it — not just here but for teenagers across America, the vast majority of whom now wear braces, customers in a rapidly expanding industry that has little reason to exist except the clearest reason in the world.
Historically, the options for improving the aesthetics of the human smile were rather limited: For centuries, if not millennia, extraction, dentures, or the filing down of teeth to create the illusion of alignment were the state of the art. The first modern orthodontia curriculum was established around 1900 by the St. Louis dentist Edward H. Angle, whose set of "malocclusion" classifications remains in use. Graduate programs proliferated after World War II, thus priming the country for the mainstream adoption of orthodontics as a somehow-necessary medical intervention.
But never before has mankind's obsession with the smile been so easily actionable. Cosmetic dentistry now represents the largest nonsurgical beauty industry after makeup. This includes the multi­billion-dollar teeth-whitening business, which began in earnest in the 1990s with dentists applying peroxide gel directly to the teeth; soon they incorporated blue LED lights to accelerate the process. Non-dentists caught on, and the technology became available in salons, shopping-mall kiosks, and online. (State boards staffed by dentists pounced, threatening retailers and sparking legal action; the Supreme Court recently ruled against them.) Teeth whitening has now trickled so far down-market as to be a mainstay of any grocery store, from home kits to additives in Colgate.
Of course, whiteness on a crooked smile is like lipstick on a pig. Over the past two decades, the number of North American teenagers in orthodontic treatment has nearly doubled, so that 80 percent are currently in an orthodontist's care, with the recommended average age of a first visit now 7. So it was perhaps inevitable that the population pool of potential customers would expand to include parents. Adults now make up roughly a quarter of all orthodontics patients in the U.S. and Canada, and dental hardware has come to constitute fashion: Models wore braces at Hood by Air's runway show in February, the same month they sparkled on the cover of Carine Roitfeld's Fashion Book.
Studies, mostly sponsored by dentists and orthodontists, regularly claim that life basically sucks for those with imperfect smiles. According to one from 2012, 38 percent of Americans would rule out a second date with someone with misaligned teeth, and those with straight teeth are 38 percent more likely to be perceived as smart. Americans supposedly prefer a nice smile to clear skin and are willing to go to great lengths to get one, even giving up dessert (39 percent) or vacations (37 percent).
The popularity of Invisalign, a treatment invented two decades ago that provides a simpler, retainer-type alternative to braces, is growing exponentially. Newer start-ups aim to democratize the industry further with mail-order DIY treatments. Amateur orthodontists (including a 24-year-old former design student) are attracting hundreds of thousands of visitors to their YouTube videos that instruct viewers how to close teeth gaps using $5 elastic bands.
When Burris was a child, he never imagined he'd enter the industry. His father had a small practice in South Carolina, and being the son of an orthodontist wasn't always a pleasure. "My old man — he used me as an experiment," he told me. "I was like a lab rat." He'd had braces three separate times, as well as headgear and something called a Frankel appliance, "which is even worse than headgear. You name it, I had it." He took a sip of his wine.
We were at Vetro 1925, a restaurant in historic downtown Fayetteville amid the beautiful Ozarks. Joining us were Burris's wife, Bridget; his hyperintelligent CEO, Matt Wilkins; and Wilkins's wife, Morgan. Ben and Bridget and their two young children had moved here, reluctantly, six months earlier. They seemed to be adjusting. The Italian floor manager, Fabio, already knew the Burrises by name and had offered them the one remaining bottle of Antinori's Guado al Tasso, a 1997 Tuscan red, which Ben took instantly.
Though Burris studied biology at the Citadel, at some point in his early 20s, genetics intervened and he enrolled in dental school and then an orthodontics residency. The evolution is almost complete. "I'm not like my old man," he said, "I am becoming my old man. It's scary." He's grown to respect his father, who at 72 still maintains a thriving two-location practice. The relationship is competitive — the younger Burris said he was "kicking his ass — yeah, all day long." It is also representative of a generational shift, as Burris's practice is predicated on constant, extraordinary growth.
Burris finished his orthodontics program towing almost $300,000 in student debt. His peers "all wanted to go to the Bay Area, or Charleston, or New York, or Miami, or wherever." The most populated areas, however, are the most competitive places for an orthodontist. In 2004, Burris learned of a practice for sale in Jonesboro, a small but growing town. Bridget, who is South African and had been living in Hilton Head before they met, was skeptical; her reaction to his broaching Arkansas, let alone Jonesboro, was, "Hell, no, I'm not going there." But they purchased the practice and made the move.
At first, Burris adopted his predecessor's financing protocol, which required $1,500 down, $200 to $300 per month, with the total cost paid in full by the time treatment was concluded. "We could see ten patients, and only three of them would start, because who has $1,500 — like, okay, here's a check right here?" explained Bridget, who ran Burris's office then. A year or two in, they decided to significantly loosen the terms. Word spread, and their patient pool swelled: "People who work at gas stations, restaurants — a lot of our patients' parents had two jobs," Burris said. They were selling the American smile, and poor people wanted one as much as anyone. "I mean, this is Arkansas," he said. "You have to admit you've heard that Arkansas is barefoot and toothless. But people judge you. The baseline minimum for being acceptable has been raised."
The business expanded rapidly and began getting away from them. In 2013, they hired Wilkins, who persuaded them to relocate to the juggernaut that is Northwest Arkansas. The region's most famous corporate resident is Walmart, which employs tens of thousands of Americans who have relocated from other parts of the country. But the other major corporate resident has been at least as much of a boon for Burris: Tyson Foods, one of the largest meat purveyors in the world. Tyson's growth has attracted a large immigrant community, which Burris proudly woos. "What other doctors say about us in a derogatory way is that we're the 'Mexican orthodontist,' " Wilkins said. "Because the people who work at Tyson processing chickens can bring their kids here, and we have people that speak Spanish, and you can get payment plans."
Wilkins told me that, 99 times out of 100, the obstacle to landing a new customer is whether they think they can afford treatment. The practice refers to its prices as "comparable," but its financing options are unusually liberal — all of the banking is handled in-house, with terms of up to 60 months interest-free, regardless of treatment duration — and it is currently carrying roughly $40 million in patient accounts receivable. (Of the company's 190 employees, more than a dozen are responsible for tracking loans.) "Think about cars," Burris said, chewing his filet. "I mean, how much does a new car cost? Nobody knows, because the commercials are, How much down, how much a month." Burris credits much of his success to this "revolution in orthodontic financing — we're responsible for that, not just here but nationwide." His practice saw 6,500 starts, or new patients, in 2014. (The national average is 245.)
Burris explained how he was in the process of expanding further — he was finalizing a merger with two of Arkansas's largest dental practices, so that, in Wilkins's words, they could care for patients "in their full life cycle." (The merger is now complete, and the new company will rebrand next month as Arkansas Dentistry and Braces.) This strategy is partly defensive: Dentists in Arkansas have been getting in on the orthodontics land rush, thanks to state regulations that expressly prohibit orthodontists from providing dental care but not vice versa. Burris has sued the dental board over this, but expanding his business into dentistry seemed like the savvier course.
I told him that all of this struck me as possibly overkill. Was becoming this enormous really a matter of survival? He and Wilkins were adamant. Last summer, Wilkins said, he'd been "invited to one of the largest corporate practices in the country. And it was laid out to us that we should sell to them because they're coming here anyway."
"If you're not big enough to control your own destiny," Burris said, taking one last sip of his wine, as they all nodded in agreement, "you're gonna get blown down in the wind."
There was a palpable breeze blowing one warm, beautiful, blue Friday morning in the Ahwatukee Foothills neighborhood, separated from the rest of Phoenix by the South Mountains. I'd aimed to be at the office of Dr. Chris Woolaver, whose Invisalign practice is the largest in Arizona and among the top in the world, when it opened for its first patients at 7 a.m., but a series of horrific, fatal multicar crashes on the city's absurdly enormous, absurdly high-speed interstates — mangled vehicles covered in sheets for victim privacy — ground traffic to a halt. By the time I arrived at the upscale office park, the practice was humming along.
Two friendly blonde receptionists manned the front desk of the 4,000-square-foot "open-concept clinic," which felt more like a sports bar than a doctor's office. The overhead lighting was modern and dim; there were several leather chairs and a coffee table, along with a granite bar featuring multiple computer terminals for patients and parents to surf; behind the bar was a soft-serve ice-cream machine, a Keurig coffee station, a soda machine, and a refrigerator filled with drinks. No fewer than a dozen televisions were tuned to ESPN's SportsCenter. At a far end of the room, four fit technicians, all in sneakers and matching athleticwear with #yolosmilemore on the back of their shirts, milled calmly about eight treatment stations. Woolaver, who is slight but also fit, approached, offering me a firm handshake and explaining that his partly bleached hair was the remnant of a Halloween party in which he'd impersonated Billy Idol. "I'm a crazy guy," he said in his thick Nova Scotian accent. "I like to have fun."
Woolaver, 43, and his wife, Allison, had come to the "promised land of sunshine and palm trees" in a process he likened to "throwing a dart on a map." He had secured an employment offer from a larger firm, where he saw upwards of 150 orthodontics patients a day, and had intended to quickly obtain his green card, but then the 9/11 attacks slowed immigration dramatically. Finally, in October 2008, Woolaver Clearsmiles Orthodontics opened its doors in bustling Ahwatukee. "The typical thought in opening a new orthodontic practice is to go to the outskirts of the city and open it in a new, growing suburb," he explained. Instead, he adopted the "Burger King philosophy," opening across the street from a competitor called Team Orthodontics and betting that he could differentiate himself by offering the newest in orthodontic treatments.
It would be difficult to overstate how significantly Invisalign shifted orthodontia upon its initial release in 1997. It was invented by Zia Chishti and Kelsey Wirth, two Stanford business-school students with no dental experience other than Chishti's noticing that his teeth shifted when he did not wear his clear-plastic retainer often enough at night and shifted back when he did. Their prototypes were created in a Silicon Valley garage; the company's revenues last year were more than $700 million. Many orthodontists remain wary, fearing the consequences of a less labor-intensive procedure, but Woolaver sees Invisalign as a train best ridden.
At least 60 percent of his patients are Invisalign patients, including, in a far corner, Julia, a teen with a long, still-wet morning ponytail, who was midway through her treatment; her mother sat on a window seat nearby. Woolaver rolled over in his chair and began removing several almost invisible tooth-colored bumps that act as anchors for the succession of clear plastic trays that were incrementally moving her teeth into place. When he was finished, he explained, a technician named Tony would use a wand attached to a large box on wheels to take a further series of several hundred thousand photographs of Julia's teeth. Invisalign's computer technicians in Costa Rica use these to create three-dimensional "impressionless impressions" of all the iterations of a patient's smile, present and future, in order to plot treatment. Digital copies are sent to Woolaver, who reviews them in his office. "I turn on SportsCenter and grab a coffee and sit down at my computer and tweak 'em all," he said. The trays then arrive via FedEx from Juarez, Mexico, and Woolaver doles them out in regular intervals.
Woolaver had already fixed the mouths of Julia's brother and mother, who'd recently finished her Invisalign treatment. She'd never considered traditional braces at her age. She'd moved to the U.S. long ago, when her husband, a Dutchman, got a job here. She'd had, she explained, "the typical British teeth, and I had lived here too long and I wanted to look — "
She hesitated and smiled. Woolaver's instrument whirred.
She called her decision to receive Invisalign among the best she'd ever made. I wondered what her family and friends in England thought of her new smile.
"They say, 'Oh, you're so American,' " she said. "That's actually what they say: 'You are so American.' "
Woolaver finished up with Julia and moved on energetically: two more adult Invisalign patients who had worn braces as children but now suffered shifting that seemed largely unremarkable to my eye but not to Woolaver's or theirs. Woolaver explained to one that he had developed a bit of an underbite, which, uncorrected, could cause problems.
According to orthodontists, the risks of nontreatment run deeper than a lifetime of flashing ugly smiles: Poor bites over time can cause increased crowding and the filing down of teeth. But some studies suggest orthodontia might actually have some deleterious effects, including tooth decay and enamel decalcification, particularly for those with poorer hygiene. Forcing teeth to move can also expose the roots of the teeth above the gum line. Serious gum recession can be corrected only through gingival grafting — the painful and expensive process of transplanting one's gum tissue. There is also evidence that mechanically altering bites can induce jaw disorders like TMJ, though orthodontists counter that uncorrected aberrant bites are at least as likely to cause these issues. Even orthodontia's basic premise — that teeth are capable of moving — goes both ways: Only by wearing a maintenance "retainer" for the rest of a patient's life can this fact be potentially mitigated. The arrival of wisdom teeth in the late teens to early 20s has ruined many an orthodontist's masterpiece.
Almost never do orthodontists hear from their patients requests to preserve — let alone create — any distinction: a playful front gap, say, or scraggly teeth. (The singer Jewel has written extensively about the pressure she's felt to correct her smile, acknowledging she is "best known for having crooked teeth" and describing the experience of wearing prosthetics for a film role as "not that I felt prettier as much as I suddenly felt … normal.") The goal is always uniformity, with no discernible gap or overlap; viewed from the slightest distance, the teeth should resemble a gleaming-white solid strip of plastic. When I asked Burris what differentiates his smile, he cited a devotion to absolute straightness. "It's the very upright, very visible torque on the upper incisors."
Woolaver described his Platonic smile more exactingly. Sitting in his plush leather-and-wood office, he cited the "six keys of occlusion," as well as the concept of the "smile arc," that the teeth should "match the curve of the lower lip, like a great beautiful aesthetic smile has an arc to it." When he also cited "beautiful people" as standard-bearers, I invited him to cue some up on his large Mac desktop.
He started by searching for "great smiles." Amid the generic stock photography — mostly advertisements by dentists or orthodontists — appeared an old image of Julia Roberts, a person he and virtually every orthodontist uses to explain to parents the virtues of a big, wide smile. He enlarged it. "Okay, so to me, yeah …" He stopped: "Eoooof — that looks like a clown. But orthodontically, good smile arc, straight, beautiful, though, yeah, she's a bit gummy." He looked closer: "There's her lower midline. She has a mandibular deviation to the left. Uh-huh …"
He tried Brad Pitt. There was a difference in the arc: "Masculine teeth are a little more square." Woolaver scrolled down, stumped: "So look at him: Three-quarters of his smiles, he doesn't show teeth." I wondered if Brad Pitt was even known for his teeth. "Yeah, I guess not," he said.
He asked whether I knew about Tom Cruise's "awful teeth." He cued up a photo, pointing with a pen, and indeed they were, at least from an alignment standpoint: "So his midline, that's the middle of his teeth, is like 5 millimeters off to the left because he's missing a tooth on the left, and everything's shifted way over there. Orthodontists laugh at how people think he's the super-sexiest guy ever 'cause we're like, My God, he's got the worst frickin' teeth in the world!"
I mentioned Angelina Jolie. He enlarged a photo of her. "Um, okay, as soon as I look at it, I see this lateral incisor is overangulated — that's angulation. That tooth needs to be there," he said, pointing to the screen.
I asked if he'd recommend braces.
"Unlikely," he said. "That's a fairly aesthetic one."
The story of American orthodontia is, in many ways, a capitalistic parable, not to put too fine a point on it. Woolaver, for instance, lives in a 6,000-square-foot house. Yet Woolaver Clearsmiles Orthodontics clearly has not evolved in quite the way he'd imagined. He'd arrived in one of the fastest-growing cities in the country, and the orthodontists were descending en masse. The threats became existential. The economy collapsed, older orthodontists opted not to retire, and, despite the glut, universities — themselves huge businesses — have continued opening orthodontic programs, with young, debt-laden orthodontists having few options but to staff and thereby fuel the giant dental corporations and franchises sweeping the country. The office building Woolaver purchased for $750,000 is now worth $350,000. He accepts every available insurance. While his average case fee is less than $5,000 — for his Aetna patients, for instance, it's around $4,700 — his colleagues in places like Minnesota or Fresno, California, are commanding upwards of $8,000 a case. His overhead is significant. Interest-free financing for patients has become an industry standard. "I'm a banker," he said, "and I never wanted to be a banker." It is becoming increasingly difficult to compete with corporate conglomerates. "It's the Walmart-ification of orthodontics," he said finally. "That's where orthodontics is heading, and we're doing it to ourselves."
Just then, his managing coordinator, Theresa, interrupted: A potential new patient was ready for him. In a consultation room behind frosted-glass barn doors, Woolaver sat down at a desk across from a 14-year-old named Liza, who was tiny yet amiable, with dirty-blonde hair and white Converse high-tops, and who was accompanied by a father from whom she had inherited a slightly spacey smile. Liza's open mouth was blown up on the big-screen television. Woolaver sprang even more to life, moving in to inspect, singsonging, "Hang on! Tip way back! Easy stuff! Just looking!"  
She had "extra spaces" and a moderate overjet, which in time would wear and chip her teeth's tips and she'd need crowns. There were two options: braces or "Invisalign Teen." The advantage to Invisalign, which Woolaver noted he'd be using on his own kids, was that it did not feature so much "stuff." He referenced the plaster model in his hands and said, "I want to get her to walk out of here with a set of teeth as close to this as I can." Theresa would discuss the financials with them.
A little while later, Woolaver asked Theresa how it had ended up. Liza and her father had left without signing. They'd already had consultations at Team Orthodontics and at another area orthodontist Woolaver had never heard of. "They're shopping," he said.
Burris generally has an easier time sealing the deal. One morning at his Siloam Springs office, which shares a common wall with a Quizno's, Janet Jackson's "Escapade" was pumping. Burris had taken ownership of this five-location practice two years ago, in a $7.5 million deal, and was visiting for the one day a week this office was currently open. (He typically has his hands in mouths five days a week, floating throughout each of his offices.) He had appointments to see 170 patients this day, 15 of whom were starts. Burris saddled up: "This is gonna make some noise, feel a little cold, and smell like fireworks," he warned a teen, preparing to drill away the glue now that the technician had removed the brackets. He did not know his patient's name. "We have narrowed down the 'what we will do' to this," he had told me earlier: "We provide great service and a great treatment, and everybody's special. If you want to be more special than everybody else, I don't want you in the practice." They were "Toyota and Ford people, not Mercedes and Cadillac people."
When all the technicians were busy and Burris had a free moment, I took the opportunity to ask what attracted him to this location. He had me follow him as he pushed open a door into a vast asphalt parking lot. "Do you see what's right over there?" he asked, pointing to an enormous Walmart. "Hardee's will come in, and McDonald's will come in. A Walmart will come in, but Lowe's, Chick-fil-A, Chili's — they don't come in till it's a proven market." As long as more conservative chains like LongHorn Steakhouse and Red Lobster have yet to discover a town, Burris saw opportunity. Burris's office manager here, Karol, a 28-year-old of Cherokee descent, said the majority of their patients came to the practice from driving by on Route 412 or from Googling "best orthodontists," but there were also billboards, ads on radio and TV, and a snow-cone truck and a placarded Toyota Prius, which happened to pull up alongside me at an Einstein Bros. Bagels several towns over. Karol estimated that the majority of the clientele were Native American, including from the Cherokee Nation just over the border. The office accepts all insurances, private as well as Medicaid, and offers a 20 percent discount for holders of a Certificate of Degree of Indian Blood card.
New clients streamed in. One, a 13-year-old Native American, had teeth that looked, from his X-rays and photos, like he'd already had braces. "To a layperson, yeah," Burris said. Did he really need braces? I asked Burris. "I mean, need is food, shelter, clothing," he said. "This is braces." But, he continued, "it doesn't make any difference what I think of his teeth. It's what he thinks of his teeth." When I wondered out loud about his motivations, Burris was steadfast that this was not about money. He and Bridget had moved into a relatively modest house in a Fayetteville cul-de-sac; he drives a pickup truck; travel is their only luxury. Before Wilkins arrived, Burris insisted, the practice was barely profitable.
Another new patient, Jennifer, 36, was being seen by Burris's treatment coordinator, Clive (who was also wearing braces). Her 16-year-old daughter was a patient getting her braces off soon; her 13-year-old son was obstinate, but Jennifer hoped he'd change his mind so he "doesn't get like me," she said. Jennifer and her ex-husband, who worked for a trucking company, used a payment plan for her daughter. It was surprisingly cheap — about $130 a month. "It's finally my turn," she told me.
I asked what had led her here. "I'd like to have a pretty smile," she said shyly. Burris breezed in, cheerfully, sitting down in the chair next to hers. He asked her to open her mouth and bite down. Closing the space from her missing lower tooth would take years. "So we're pretty much gonna leave that alone."
"That's cool," Jennifer said. "Nobody can see that."
He was pointing at her photos now. His primary concern was "the gums right here, 'cause they come down pretty far right there and you're a little bit red." She would need to see a dentist and a periodontist.
She was clearly disappointed; Burris otherwise would have had her in braces the same day. "Okay," she said. "Mmm-hmm."
But the periodontal work would be straightforward. "Long story short," Burris said, "once we find out what's going on, braces for a year and a half."
"Really?" she asked excitedly. "Yay!"
Clive secured for her the name of a local dentist before turning to the issue of financing. The total cost was $6,280. Jennifer mentioned her daughter's $130-a-month payment. Clive wondered about her down payment: Could she do $500 by the end of the year? It would take her a few weeks longer.
"Wanna do $250, if I could get that to work?" Clive asked.
She did.
She handed him one credit card, then changed her mind, then handed him the first card again.
The American smile is now such a well-known commodity that other countries have taken the ball and run with it. Over dinner, Burris and Wilkins told me about a recent trip they'd taken to a huge dental show in China to pursue manufacturing options for a new bracket Burris had designed. "We were shocked," Wilkins said. "It was, Look at this new implant we can do. We can take out all your teeth and instantly give you a smile." Burris likened it to "permanently installed dentures." A live demonstration took place on the convention floor —
"No!" said Bridget. "Are you serious?"
"It was a freaking madhouse," Burris said, laughing.
"But it's almost like that's the way to compete with what we're doing," Wilkins said. Which, of course, begs the question of what exactly it is that they're doing. According to Marc Ackerman, director of orthodontics at Boston Children's Hospital, no definitive evidence exists demonstrating better overall oral health for people with corrected smiles, once you control for hygiene. And yet parents continue to subject their children to a drawn-out, expensive, and often painful intervention that might not be so much more medically necessary than breast implants. Perhaps this is too morally fraught for parents to acknowledge. Or perhaps it isn't morally objectionable at all. For those of us who had braces as children and have straight teeth as adults, the adjudication is easy: It was absolutely worth it. The world is a chaotic place, and who's to object to a little beauty — even if it extends no further than a smile?
Woolaver himself is proof of this. He had, he told me, been born with a cleft palate, a malformation that occurs in utero when the two bones that should fuse to close the roof of the mouth do not. It had been a very difficult childhood. "It drove my life, 'cause it's your face," he said. He'd had his first of at least six cleft-related surgeries at a few months old. He'd had his last at 18. At 12, he got his first set of braces. His teeth were "everywhere around the cleft — sideways, malformed, as bad as you think teeth can be." He described braces, bone grafts, medieval-sounding appliances, surgeries. His orthodontist's office — energetic, lively, happy — became a respite, his orthodontist an inspiration. The braces came off and went back on. Woolaver went to orthodontics school with them still applied, his classmates ultimately helping him formulate his treatment. When they came off for good, at age 28, his teeth were still small, misshapen, and unsightly. First he had them bonded. Eight years ago, he got his veneers.
"And now," he said, smiling a lovely, perfectly unremarkable smile, "I'm done."
*This article appears in the June 8, 2015 issue of New York Magazine.