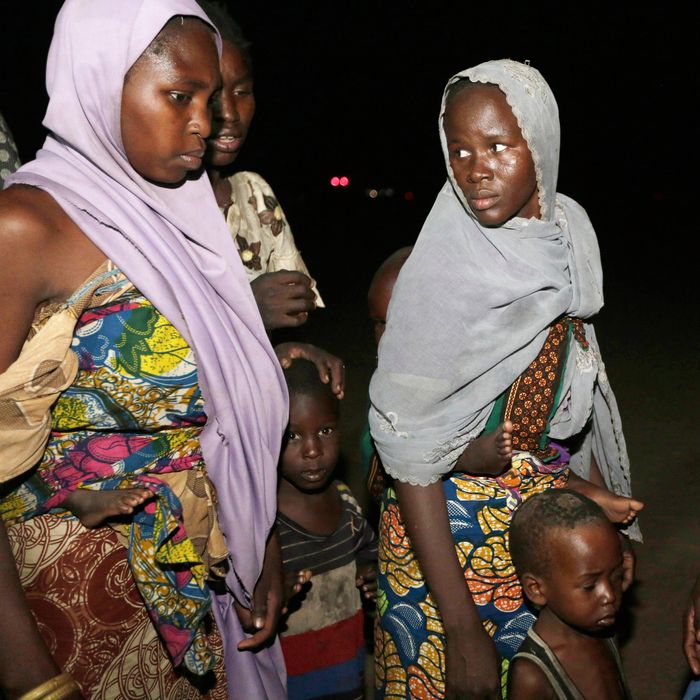 Women and children rescued by Nigerian soldiers from Boko Haram.
Photo: Sunday Alamba/AP/Corbis
Yesterday, a coalition of religious and human-rights leaders called upon President Obama to issue an executive order making government funds available to pay for abortions for girls and women who have been raped during violent conflicts abroad. "President Obama has spoken compassionately about women and girls raped in war and conflict, but has failed to act on that compassion," the coalition said during a news conference at St. John's Episcopal Church in Washington, D.C.
Currently, federal law prohibits the U.S. government from using foreign-aid funds for the "performance of abortion as a method of family planning or to motivate or coerce any person to practice abortions." Known as the Helms Amendment, the law has banned the use of federal funds for abortion since 1973. Yet members of the coalition — which, led by the Center for Health and Gender Equity, includes leaders of several Jewish, Christian, and Muslim groups — argue that the amendment only forbids funding for abortions used for family planning, and should not restrict the use of federal funds for abortions in cases of rape or incest.
"Right now, President Obama is failing to stand with women and girls raped in conflict," said Serra Sippel, the president of the Center for Health and Gender Equity, referring to women who have been raped by members of terrorist groups like Boko Haram and the Islamic State. On Monday, the coalition installed ads at bus stops near the White House depicting a silhouette of Obama's back, reading, "Don't walk away from women and girls raped in conflict. Act now."
"We're asking the president not to put politics ahead of women," Sippel said. A spokesperson for the U.S. Agency for International Development, Benjamin Edwards, declined to respond directly to the issue of abortion funding, but told the New York Times that it's an issue the administration takes "extremely seriously … We know the value of providing survivors with the much needed sexual and reproductive health and psycho-social services that can help them recover from trauma so that they can rebuild their lives and their communities," he said.