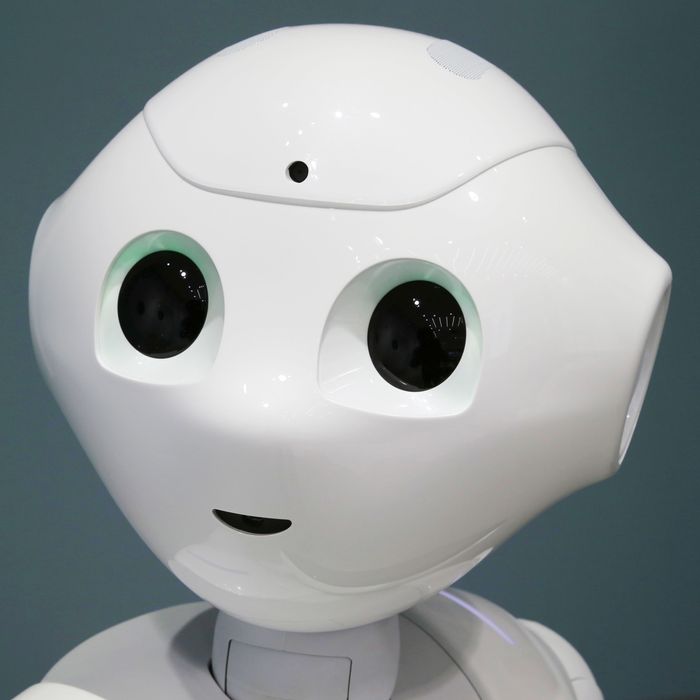 Pepper, a robot with feelings.
Photo: Koji Sasahara/AP/Corbis
It turns out demand for the world's first robot with feelings is quite high: Japan's SoftBank Robotics Corporation reports that the first 1,000 models of "Pepper," a cute artificial companion designed to recognize, react to, and display human emotions, sold out online in under a minute.
Not to be confused with Matt McMullen's forthcoming interactive sex robots, Pepper is made of white plastic, stands just under four feet, and appears to be great with kids. According to his developers, he's designed to recognize human voices and facial expressions and exhibit his own emotions. Pepper is intended to be a loving companion to humans — he's at ease with people he knows, scared in the dark, and lonely when ignored. His emotional responses evolve based on his surroundings, and he also dances to music. "He tries to make you happy," Kaname Hayashi, SoftBank's project manager, told CNN.
The sensitive little robot can speak English, French, Japanese, and Spanish, and retails for about $1,600, plus an additional $200 a month for data and insurance fees. Though he's currently sold out, SoftBank will announce additional sales in July, and plans to produce 1,000 units a month.