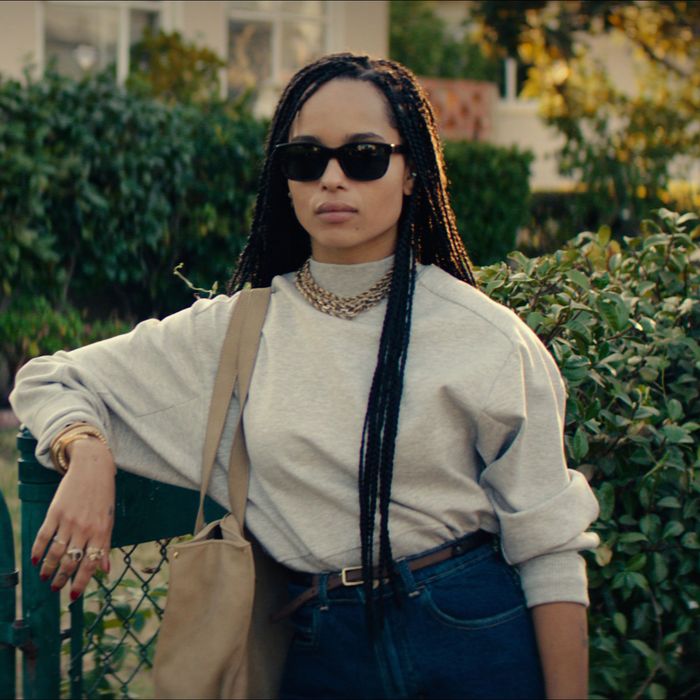 It hit me the second Nakia, Zoë Kravitz's character in Dope, appeared onscreen, dressed down in light-wash, high-waisted jeans and a white tank, her braids loose. Here she was, that familiar and favorite archetype from hip-hop culture: a modern, septum-pierced version of Rosie Perez in Do the Right Thing or Janet Jackson in Poetic Justice.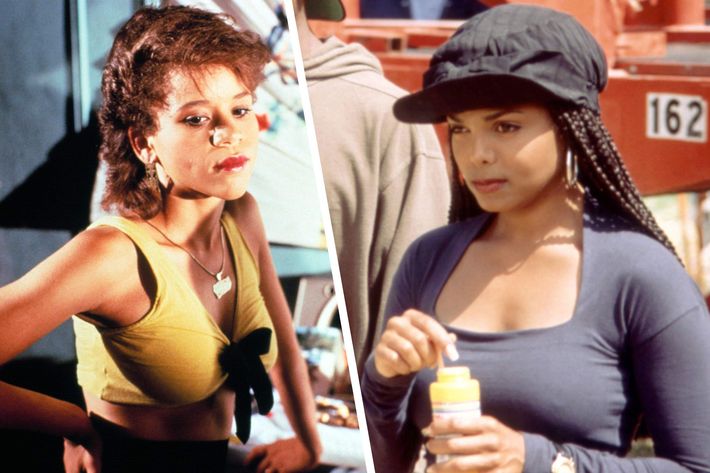 Dope, director Rick Famuyiwa's lively and clever comedy/drama, which opens tomorrow, follows three outcast Inglewood teenagers, Malcolm, Diggy, and Jib, who get wrapped up in a drug deal. The movie is set in the present day, but because the teens are obsessed with the Yo! MTV Raps era, ends up being a visual and aural love letter to all things '90s hip-hop: the hair, the slang, the music, the clothes, and, of course, the style of the Around the Way Girl.
For those who are unfamiliar, the Around the Way Girl is a little-seen archetype these days. Rosie and Janet are my two favorite examples, but all ATWGs were immortalized in LL Cool J's seminal 1990 hit, "Around the Way Girl," in he which he spits these lines about the "cuties in the neighborhood": 

She can walk with a switch and talk with street slang / I love it when a woman ain't scared to do her thing / Standing at the bus stop sucking on a lollipop / Once she gets pumping it's hard to make the hottie stop / She likes to dance to the rap jam / She sweet as brown sugar with the candied yams / Honey-coated complexion / Using Camay / Let's hear it for the girl, she's from around the way
Other defining characteristics: She's independent and streetwise. Urban Dictionary adds that an Around the Way Girl "really knows how to get hers in a man's world, all while leavin men droolin!" As for her appearance, LL waxes about her "silky, milky smile," and her proclivity for looking fantastic in casual gear.
Nakia is a classic callback to the idea of the ATWG. Every time she's onscreen, the music fades out (literally) and the crowd blurs away (also literally), so she's all the lead character, Malcolm — and the audience — can focus on. And her laid-back style, though perfectly in tune with 2015, looks like it came straight from 1996.
Dope's costume designer, Patrik Milani, used photo books by Jamel Shabazz and the hashtag #inglewoodhigh on Instagram to inform most of his work, but his initial inspiration for Kravitz's character was a street-style shot of Jourdan Dunn in jean shorts and a thermal with a plaid shirt wrapped around her waist — the perfect example of modern-day ATWG style. He put Kravitz in high-waisted jeans (by Acne), high-waisted jean shorts from American Apparel, sandals, tank tops, and bra tops under buttoned-up plaid shirts. He never put her in a dress, even when the script called for it. "She's so beautiful, I really just wanted to dress her down," Milani explained of his inspiration for Nakia's costumes. "She's cool, she knows she doesn't need to impress you, but at the same time she dresses down as kind of a defense mechanism. She doesn't want men to holler at her."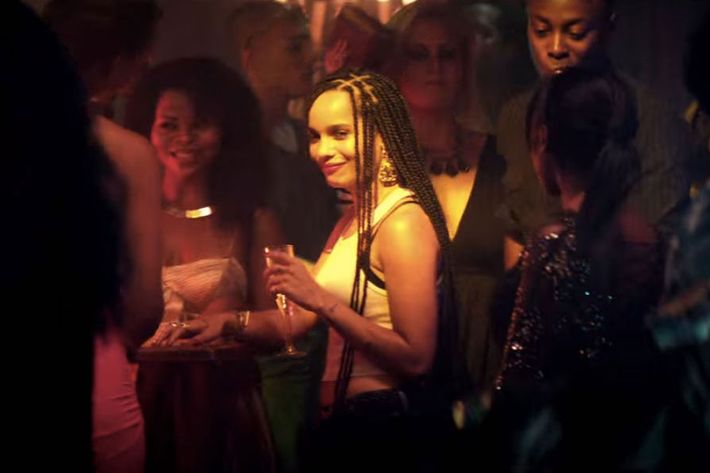 While the archetype is rarely tributed in today's movies or music, it's an important one. In the canon of '90s street comedies and dramas, she's the leading lady — not a sidekick or the movie's token character. The ATWG archetype is a full-on appreciation of the body, sexuality, strength, and style of a woman of color. The idea is a minority woman's answer to the traditional blue-eyed, blonde girl next door, or today's "cool girl." "The other girls are peacocks. She doesn't need to peacock," Milani says of the look. All she really needs are "bamboo earrings, at least two pairs."