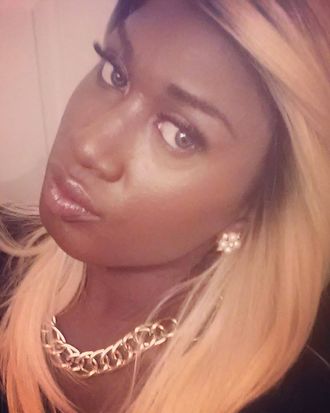 India Clarke.
Photo: India Clarke/Facebook
India Clarke, a 25-year-old transgender woman, was found beaten to death near community basketball courts in Tampa, Florida, on Tuesday. She is the tenth trans woman who has been murdered in the U.S. this year.
Despite recent gains in visibility for the trans community, violence against trans individuals — especially trans women of color — remains disturbingly prevalent. According to a report from the National Coalition of Anti-Violence Programs, more than half of the victims of anti-LGBT homicides in 2013 were trans women of color. In 2014, 12 trans women were murdered in the U.S. — though that number doesn't account for victims who were misgendered by the police.
Monica Roberts at TransGriot points out that coverage of Clarke's death by local news stations ignores journalistic standards for reporting on trans individuals. Tampa's WTSP-TV referred to Clarke as "Samuel," using male pronouns and putting her chosen name, India, in quotation marks. A video on the site is captioned "Man Dressed As Woman Found Murdered."
The police are also refusing to recognize Clarke's gender identity. Larry McKinnon, a spokesperson for the Hillsborough County Sheriff's Office, which is investigating the murder, told BuzzFeed News, "We are not going to categorize him as transgender. We can just tell you he had women's clothing on at the time. What his lifestyle was prior to that we don't know — whether he was a cross dresser, we don't know … He is a male. I can't tell you that he is a female."
LGBT anti-violence organizations have warned that, in addition to being disrespectful and transphobic, misgendering trans victims and downplaying gender identity as a factor in violence can often alienate people close to the victims, who could potentially provide tips to help identify a suspect.