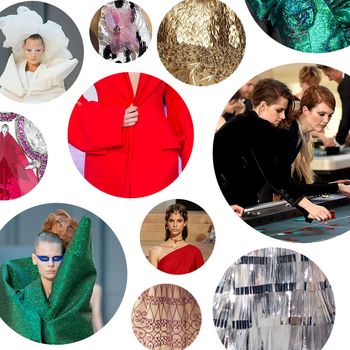 The fall 2015 Couture shows wrapped last week at Valentino, in a grand Roman finale worthy of an opera. But earlier in the week it was all about the streets of Paris, where bombshells like Lupita Nyong'o and Julianne Moore made their way from shows to parties in elegant attire. For those of us editors lucky enough to sit among the millions of flowers, it was a fashion feast, indeed. From the star power to the star looks to the construction of a casino from whole cloth, here are the 12 best moments from the week.
1. Chanel staged a massive star-studded casino.
Considering Chanel's reputation for all-out show productions (A brasserie! A supermarket! A manmade island in Dubai!), it was a surprise to walk into a quieter, scaled-back casino at the Grand Palais on Tuesday. A few tables sat in the center, surrounded by Chanel-themed slot machines (Little Black Jack–et, anyone?), but the real staging came from famous friends of the house. Kristen Stewart, Jemima Kirke, Vanessa Paradis, Lily-Rose Depp, and Oscar winner Julianne Moore, among others, came to play. The eveningwear-clad celebs sat center, playing at roulette tables, while the lineup of jazzy evening dresses (in feathers, velvets, and rubberized fringe) and iterations of Chanel's ubiquitous suits (some using 3-D-printing techniques) circled around them.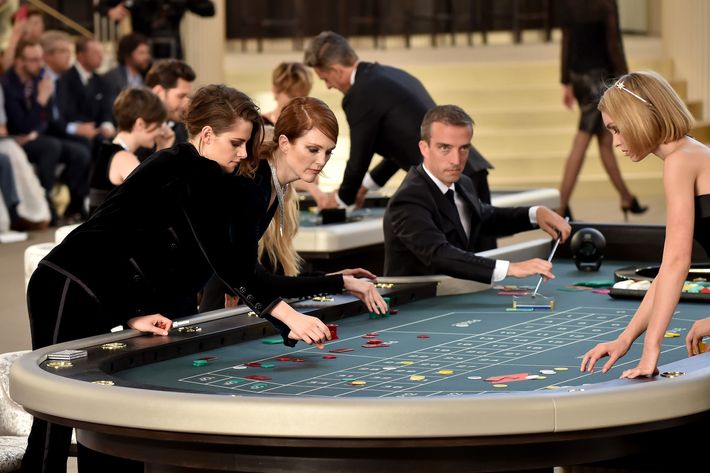 2. Couture Week is just a great excuse to throw parties, which have all become special performances now. At Lancôme's 80th-anniversary soiree, Kylie Minogue performed. Lauryn Hill sang to the crowds at Tory Burch's store opening in Paris. And at Viktor & Rolf's party, Tori Amos serenaded. Not to be outdone in Rome, after Valentino's blowout dinner, guests entered an entirely new party where Mika performed with great energy.
3. If you are a princess, good news: This would be a good time to get married and order a couture dress. Typically the last look of a couture show is a wedding dress, and this season offered a variety of slightly nontraditional marital attire. Elie Saab showed a mind-meltingly beautiful embroidered, double-wide lace gown in gold. And Chanel offered a sophisticated white suit with tulle shoulder veiling, worn by Kendall Jenner. And for the recycling/DIY enthusiast, John Galliano's bride at Maison Margiela wears a dream of a dress trimmed in plastic bags.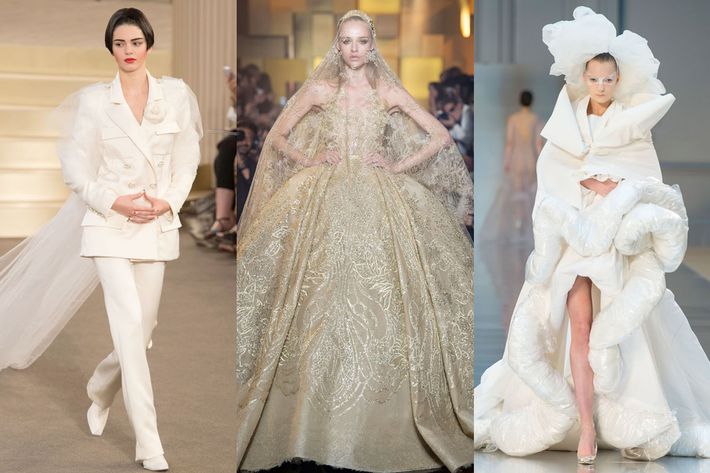 4. There were great hair and makeup options for rich eccentrics! Sculpted hair was a nice contrast from the natural beauty we see often on the runway. At Maison Margiela, we saw cobalt-slicked eyes and wavy hairpieces. Jean Paul Gaultier's models sported headpieces made out of hair by wizard Odile Gilbert. And at Chanel, each model had aggressive blush, red lips, heavy brows, and severe cropped hairdos.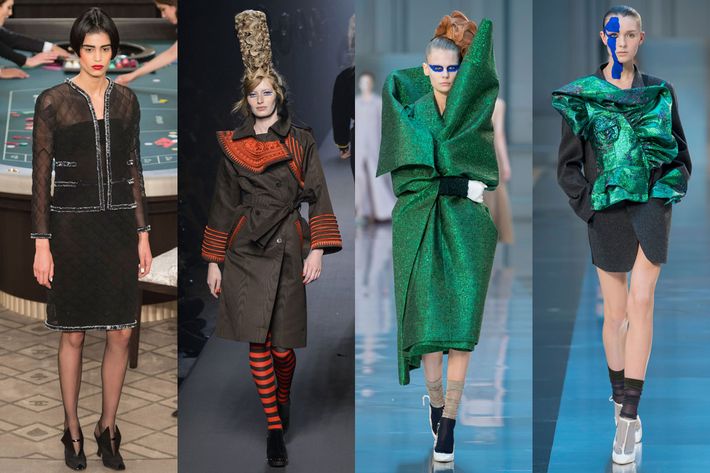 5. The staging and set design did not disappoint. Raf Simons loves a garden. For his Garden of Earthy Delights, a pointillist-painted plexi setting (a painterly nod to his first couture collection for Dior, where each room was walled in different-color roses) was built in the yard of the Rodin Museum on a blisteringly hot day, making for a hothouse daze. Purple shag carpet made an even trippier runway for the beautiful show.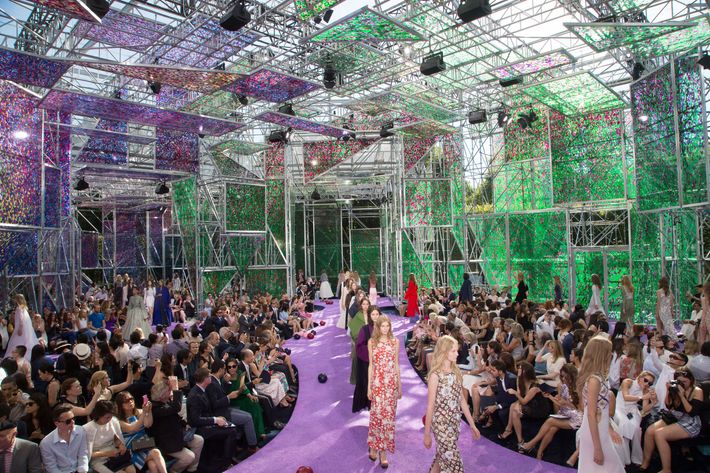 6. I saw some of the fanciest jewelry in the world. When not at shows, I spent every spare moment in the lush showrooms of jewelers and couture houses. Chanel used clear rock crystal to display the inner designs of their pieces, while Bulgari's new evening watches were colorful works of art. My favorites were all of the truly special earrings, like Chopard's pear-shaped spinels surrounded by rubies and diamonds. Dreams.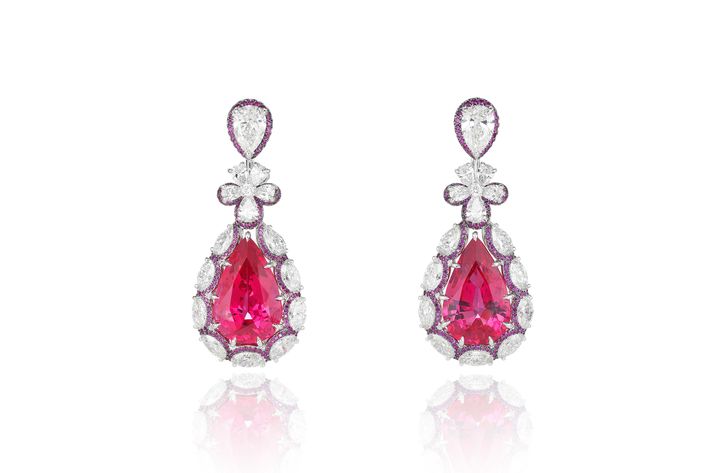 7. Speaking of earrings we want to own but cannot … Giambattista Valli dominated Instagram with his finale gowns, the largest swaths of tulle to walk the couture shows. But it was the oversize embroidered-fabric earrings paired with a great silver fringed dress that had all the fashion editors losing their minds.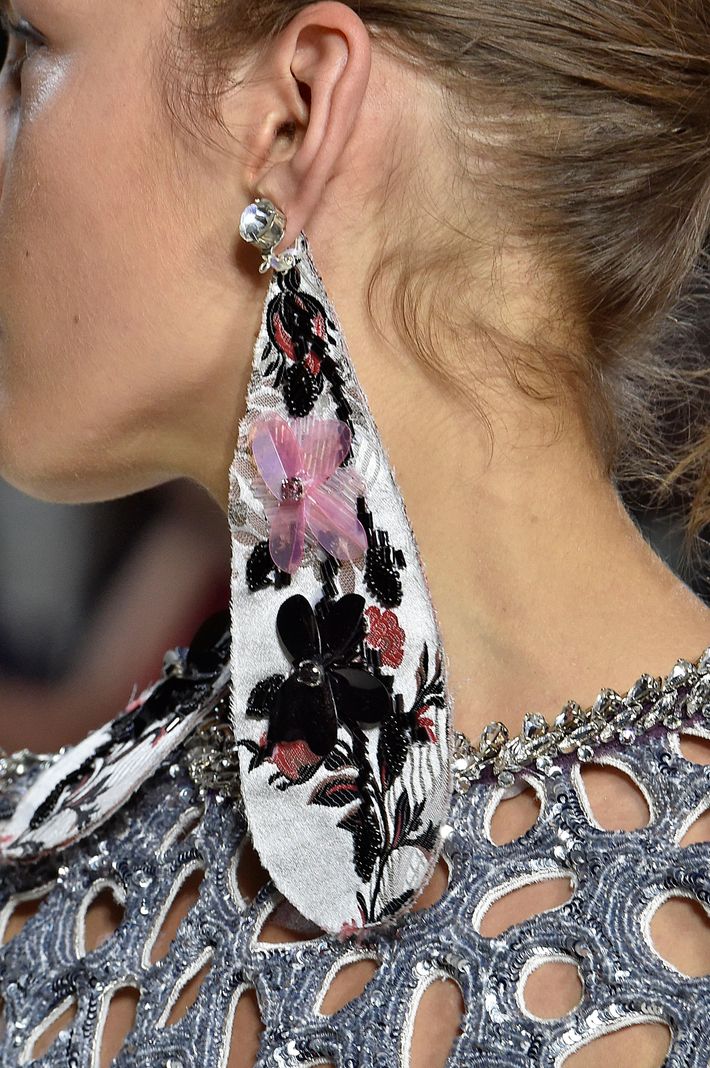 8. Resort, the season that never ends, finally ended. Is it even all about couture anymore? The schedule was packed with shows and lots of fine jewelry to see, but there were even more cruise collections, designer-collaboration previews, and resort shoe presentations. We loved Céline and Miu Miu's resort collections, and got a peek at Uniqlo's collaboration with Lemaire and are already putting together a mental shopping list.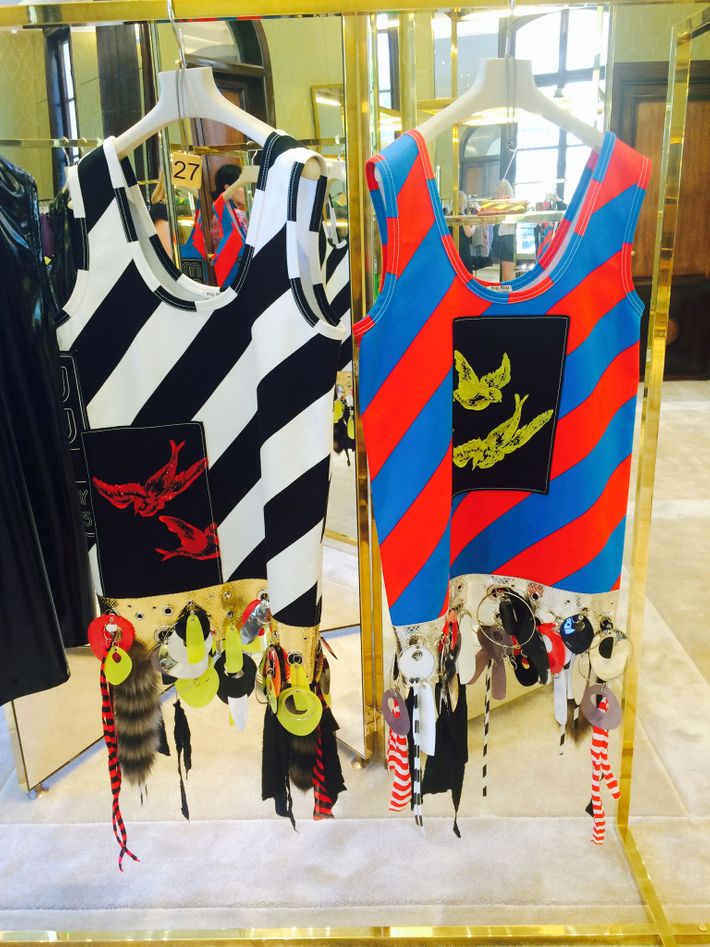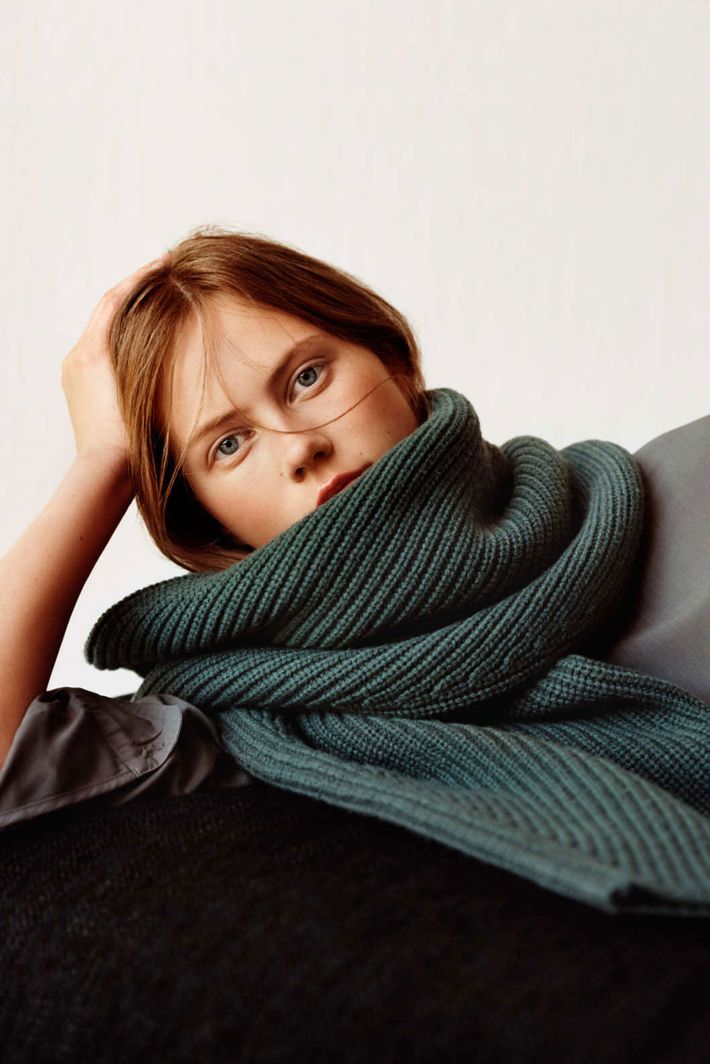 9. Couture gets in the gender game. At Maison Margiela, John Galliano slipped a few male models into the lineup, a thing we've seen in reverse more frequently at the men's shows with women's resort looks. But here it was cool to see couture evolve alongside the ongoing gender conversation.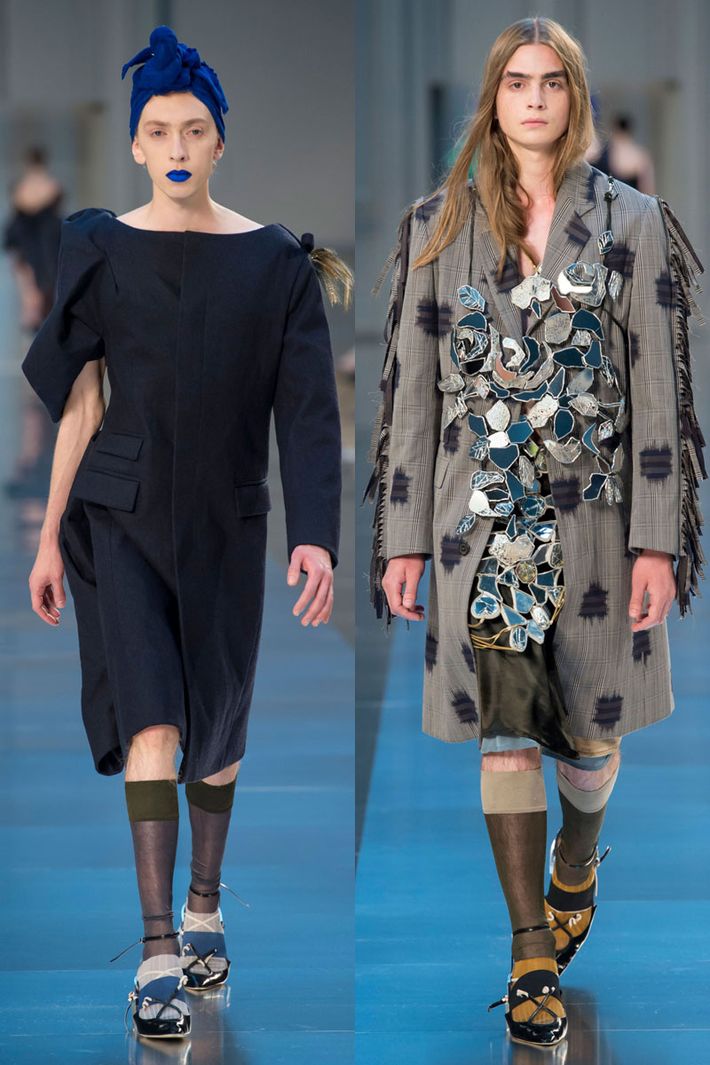 10. It's not all about gowns at the shows, and the outerwear at Dior looked just as carefully constructed as any of the more intricate evening looks. Romantic dresses veering on a chic Medieval Times look were topped with oversize outerwear. There were one-sleeved cape coats and a gorgeous red sweeper with an elongated flared sleeve.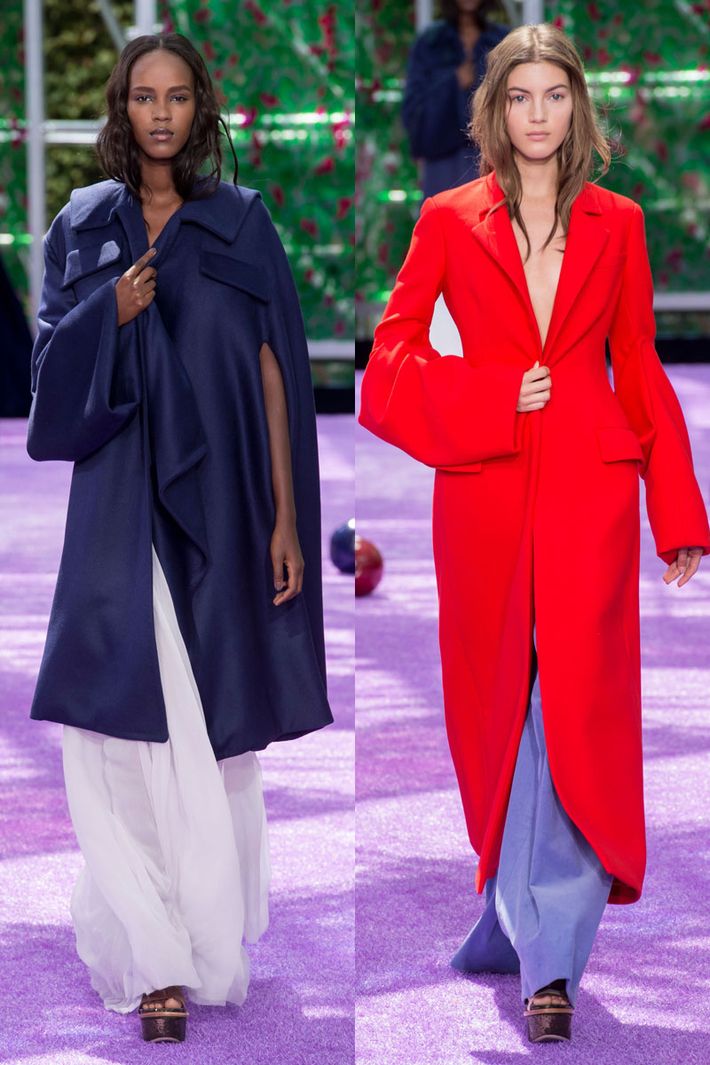 11. Valentino heads to Rome.
Valentino and creative directors Maria Grazia Chiuri and Pierpaolo Piccioli brought their couture collection to Rome, where they are based and where they also plan to open a couture school. Guests were taken on a private tour around Rome to see an exhibition of ten locations with historic meanings for the brand, each spot with its own scent created for the occasion.
12 . Valentino crushed it. The actual show took place near the Spanish Steps and was attended by 700 guests, nearly all dressed in Valentino. Roman goddesses and warrior princesses in black, red, and gold marched the runway, leading to a rare standing ovation. The show was followed by a dinner gala for all at Villa Aurelia high above the city. A perfect end to a dreamy Fashion Week.