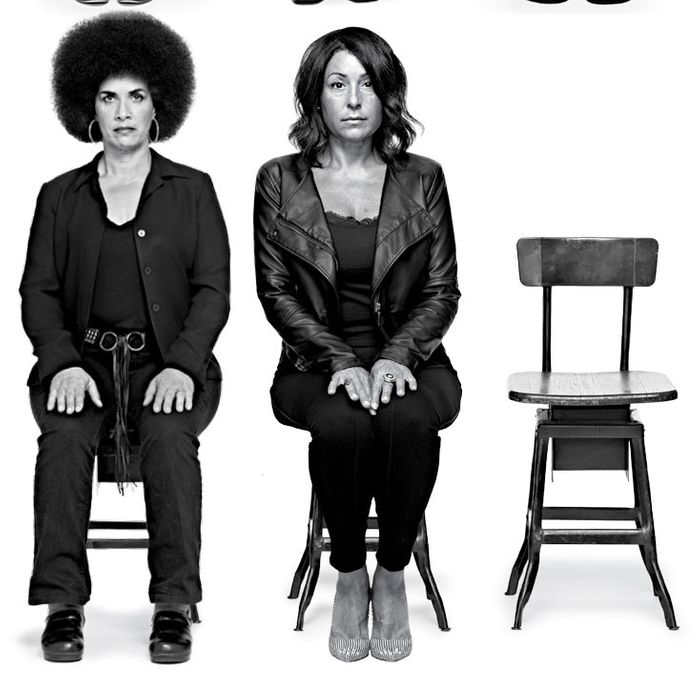 Thirty-five women, each sitting in a chair, their hands resting on their laps, their faces looking straight at you: That was the cover of this week's issue of New York — thirty-five women who have accused Bill Cosby of assault.
And one empty chair.
That chair signifies the 11 other women who have accused Cosby of assault, but weren't photographed for the magazine. But it also represents the countless other women who have been sexually assaulted, but have been unable or unwilling to come forward. There are a lot of reasons why survivors of sexual assault never come forward with their allegations — be it fear or shame. Someone is sexually assaulted every 107 seconds in the U.S., but fewer than half of all rapes are ever reported. There are a lot of people who will never take that seat, though, as writer Ashley C. Ford noted, "The power of standing together and sharing our stories as victims or survivors of rape is undeniable, but it is not required of us."
As members of New York's social media team, we'd spent weeks planning the social-media rollout of the cover package. We created graphics for multiple platforms and experimented with "audiograms" on Instagram to prepare for launch. When we shared the cover photo and the accompanying article — an endeavor six months in the making, conceived by art director Jody Quon, photographed by Amanda Demme, and written by Noreen Malone — we knew it was going to be big. But we were unprepared for the massive social-media response to that lone chair on the cover.
About half an hour after the launch, we started to notice the hashtag #TheEmptyChair circulating on social media. This was not part of our elaborate launch plan — credit goes to Elon James White (a journalist and publisher of This Week in Blackness) for first using it, and the thousands of readers who continued the conversation about sexual assault with #TheEmptyChair.
"After I first tweeted the cover, a few people like Bree Newsome and others noted the empty chair," said White. "I noticed it too, and thought that the hashtag could house a serious conversation about those who #TheEmptyChair represents. It could let those who wanted to speak up be able to have a space to do so. But even as that was happening, someone noted that many people wouldn't want to be exposed to the abuse that comes with being public. Soon after that, I received a Direct Message from someone who wanted to speak on #TheEmptyChair but couldn't." At the time of publication, White has published over 150 anonymous testimonies from survivors, sent to him via DM, Tumblr, email, and other platforms.
Since Sunday night, #TheEmptyChair has been tweeted over 12,000 times (according to topsy.com), with both deeply personal stories, comments about rape culture, and affirmations of belief in victims of sexual assault. We urge you to read through them; they're incredibly powerful, and we hope that they, along with the cover, continue the conversation about sexual-assault awareness.
#TheEmptyChair is a heartening testament to the community-building power of social media, and a reminder that, as Tamara Green said in our cover story, "We can't be disappeared. It's online and can never go away."