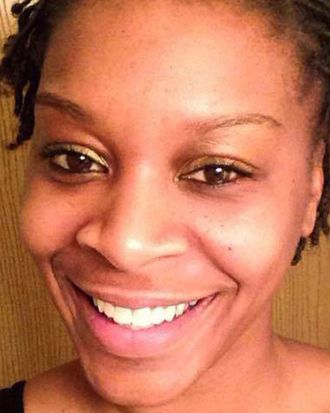 Sandra Bland.
Photo: Facebook
On Monday, police in Mount Vernon, New York, found Raynetta Turner dead in her holding cell. According to Mayor Ernest Davis, Turner, who was 44, had been arrested for shoplifting on Saturday. Though the cause of her death is still being investigated, Davis has confirmed that Turner reported various medical issues when she was arrested, including bariatric surgery and a history of hypertension, and was taken to a nearby hospital and then returned to her cell the night before her death.
Think Progress points out that Turner is the fifth back woman who has died in jail since July 13, when Sandra Bland was found dead in her cell in Waller County, Texas, after she was arrested for changing lanes without a turn signal. Police said Bland was found hanged to death; following an autopsy, her death was ruled a suicide, though the evidence is still under investigation and Bland's family has hired a doctor to perform an independent autopsy.
A day after Bland's death, 18-year-old Kindra Chapman, who was arrested for stealing a cell phone, was found dead in a holding cell in Homewood, Alabama. According to a video statement released by Homewood police chief Jim Roberson, Chapman arrived at the city jail at 6:14 p.m. on July 14; she was reportedly placed in a solitary cell before 6:30 p.m., and was found dead the next time that officials checked on her — around 7:50 p.m. According to authorities, she used a bed sheet to hang herself. Last week, attorneys hired by Chapman's mother released a statement that they believe the death was a suicide, but plan to "investigate how this could have happened while she was in police custody." Chapman's grandmother has stated that she doesn't believe Chapman killed herself.
Last week, Joyce Curnell was found dead in a cell at the Charleston County Detention Center a day after she was booked for an outstanding bench warrant on shoplifting charges. According to Sheriff Major Eric Watson, Curnell, who was 50, had been to a local hospital for an apparent medical issue prior to her booking. The autopsy is still pending, and the South Carolina Law Enforcement Division is investigating her death.
This past Sunday, Ralkina Jones, 37, was found dead in the Cleveland Heights City Jail. She was arrested the previous Friday after an alleged altercation with her ex-husband, which reportedly involved smashing his car with a tire iron. According to her sisters, Jones had various health issues, including a brain aneurysm and heart murmur, though when her family visited her in jail on Saturday morning, she appeared to be in good health. Later that evening, a jail administrator noticed that Jones seemed lethargic, and she was taken to the hospital. Jones returned to prison at 10:40 p.m. that night, and was found unresponsive around 7:30 a.m. the following morning. The cause of her death has not yet been disclosed.