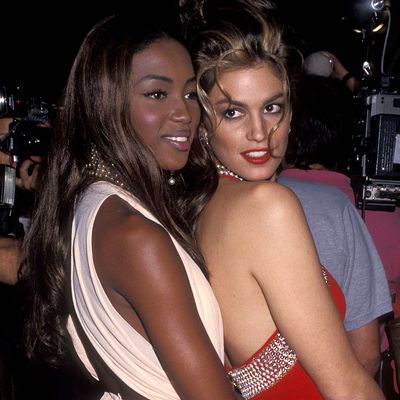 Photo: Ron Galella, Ltd./Getty Images
Looking for more Amazonian altercations in your TV-viewing schedule? You can finally stop holding your breath, because according to Variety, Cindy Crawford is developing a TV series, to be called Icon, about the world of modeling in the Me Decade. But don't expect to glean any details about Crawford's runway past. The show will be "completely fictionalized, rather than a re-telling of Crawford's own experiences. No actual names of models or figures from the time will be used." So much for those of us rooting for a raft of Bad Blood–style cameos. Crawford won't be acting in the series either, per the trade paper's report, which is disappointing because she kind of ruled on House of Style.
Despite the success of America's Next Top Model, fortune has not been kind to fictional models on the small screen. (The graveyard includes the Melrose Place spinoff Models Inc. and The Beautiful Life: TBL, both very short-lived.) But this one sounds like it could be more promising — the screenwriter of The Hunger Games, Robin Bissell, is writing the script, which makes sense, because '80s modeling was nearly as intense as the Reaping.