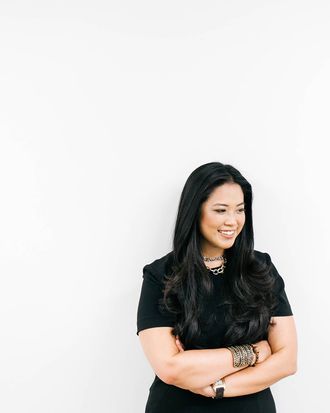 Lisa Sun.
Photo: Sharon Radisch
Lisa Sun is the CEO of Project Gravitas, a clothing collection aimed at women who want to look professional — and be taken seriously — without resorting to daily black pantsuits. Having lost literally half her body weight during her time at management consulting firm McKinsey & Company, Sun is sympathetic to the challenges of dressing for a corporate environment, so her dresses have shapewear cleverly built in. 
Sun went around the world and back before she found her passion. After graduating from Yale, she took the MCAT, the LSAT, the GMAT, and the GRE, but was still unsure of what she wanted to do, so she went to work at her parents' scrap-metal business. Eventually she left for McKinsey, where she became one of the leaders of the global-fashion and luxury industries. But it wasn't until she quit her job and embarked on a trip around the globe that she realized she really wanted to be an entrepreneur focusing on using fashion to help women represent themselves at work.
In 2012, she patented her own line of shapewear attached to clothing, aiming to encourage women of all sizes to feel confident and see themselves in a better light. She talked to the Cut about the defining moments in her career, building a brand from scratch, and how fashion has an impact on her clients' lives.
You've had decades of experience in various industries. Why become an entrepreneur and start over?
My parents came to the U.S. with no money — my mom worked at a hamburger truck and my dad worked on a loading dock. They saved up enough money to own a scrap-metal business, and I went to work for them after college. I was 20 years old when my parents sold that business and I was unemployed until someone told me about McKinsey. I spent 11 years there working my way up the ladder. I used to weigh almost 300 pounds, and about halfway through my time at McKinsey, I lost 150 pounds and discovered fashion. And after talking with my manager about my future, I decided that fashion was where I really wanted to be.
I realized I hadn't taken a vacation by myself in 13 years, so I went on an extended holiday. I sat on beaches, traveled around the world, caught up with friends. During the last week of my break, my mom said, "Lisa, you can't stay at home. Home is nice, but you need to find a job." I told her I had the idea for Project Gravitas, and she encouraged me to bet on myself. She asked me how much money I had saved, and the next morning I woke up with ten emails from my lawyer, my accountant, and my business manager. My mother had asked them all to help me start a company.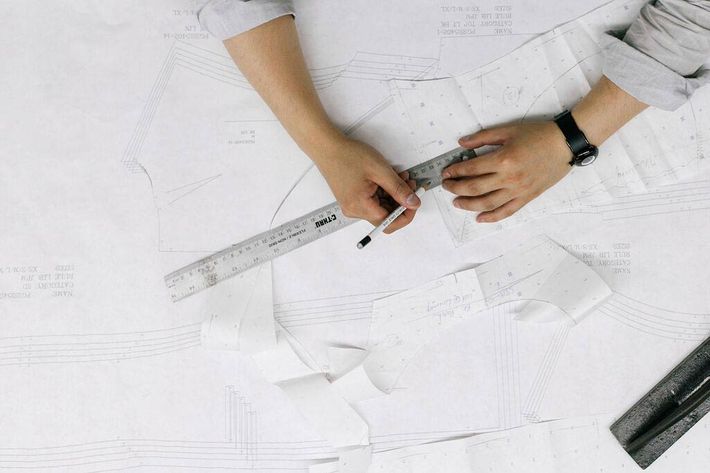 Where did the idea for Project Gravitas come from?
It came from my first boss at McKinsey, who told me I didn't have any gravitas. She told me to buy a new dress, wear big jewelry and great shoes. On the surface it felt kind of offensive, right? It was like, you want me to dress better? But at the time I was 21 years old, so what she was really saying is I needed to see myself differently. The way I was dressing wasn't necessarily the way I should be dressing to take my career forward. So I started Project Gravitas as a company that would give women the confidence to take on the day.
So it's all about seeing yourself in the best light?
Yeah, to have that confidence boost! I believe fashion can be interpreted as something deeply meaningful. We're communicating something about ourselves, and something quite internal. Project Gravitas is only sold online, so I knew we had to have a functionally different type of product — an innovation that you can't find in traditional retail stores, made with luxury fabrics.
There are so many different types of shapewear, and women can't get enough — Kim Kardashian admitted to sometimes wearing three pairs under dresses. What makes shapewear attached to clothing so innovative?
You get all-day smoothness and control without the pulling and tugging and discomfort. And we do it under $300, in various styles and colors, from pencil skirts to shift dresses.
You continuously advocate for designers to manufacture in New York, not overseas. Why is that?
Only in New York City can you do small-batch, low lead-time, luxury production. If we were making this overseas, we would have to make 1,000 at a time. Here, we're able to make anywhere between 50 to 100 at a time, which means the lead time is only a week. If we sell out on something, in two to three weeks we can be back in stock, versus waiting six months for it to come over on a boat.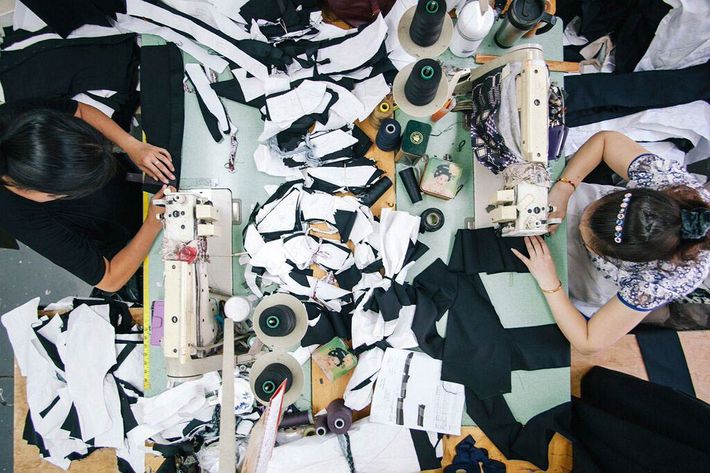 Your factory partners with other brands to keep everything economically sound, and you have a pretty small team here. How does that affect production and sales?
We have 20 sewers and ten employees on our core team. Three are moms who work in the office two to three days a week, and then they work from home to spend time raising their families. With the size of our team, one dress from start to finish is a full day's work. Most of our styles go up to size 16, but we're testing pieces in a size 18 now and want to go up to a size 24. A lot of customers will email us saying, "I bought the 18, it really worked, and here's what you should tweak in the next batch."
We're really proud of all these letters we get from women. One woman emailed us, "My husband of 20 years cheated on me and I'm going through a divorce and I need to look kick-ass at my son's graduation. Can you help me?" So we dressed her. She came with her mom and her sister, got two dresses, and sent us pictures from the graduation. She got a new job and started over. It's kind of crazy when you think about it. We just make clothes — and yet they have such an impact on people's lives. 

This interview has been edited and condensed.