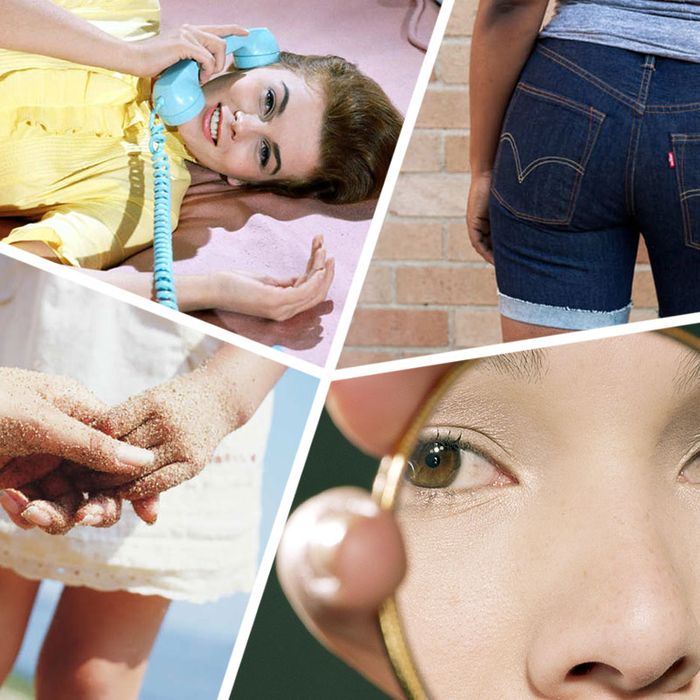 This week, the Cut dove deep into the question of advice: We contemplated the sneaky wisdom of advice that turned out to be right, pondered why some advice is so hard to take, and, of course, shamelessly solicited advice from women we admire, like Madeleine Albright, Vera Wang, and Tracee Ellis Ross. We also offered our own advice — on everything from how to find the perfect jean shorts (it's a struggle) to tips for dealing with a friend's boyfriend whom you hate. In case you missed it, here are all of our Advice Week stories in one place.
WE ASKED 25 FAMOUS WOMEN TO SHARE THE BEST ADVICE THEY'VE EVER RECEIVED. From how to successfully navigate open bars to learning to be discerning about the people you date.
WE CONSIDERED WHAT MAKES PARENTING ADVICE UNIQUELY TOUCHY. Everyone wants to tell you how you should raise your kid — but almost no one wants to hear it.
WE REVISITED AN ETERNAL TRUISM ABOUT ADVICE. Face it: Parents are the best at it, even if it takes you years to recognize.
WE LET TRACEE ELLIS ROSS ENLIGHTEN US ABOUT WHY IT'S GREAT TO BE YOUR WORST SELF. She shared wisdom for how to get over your standards of perfectionism and accept yourself.
WE SCHLEPPED ALL OVER THE CITY TO FIND THE PERFECT PAIR OF DENIM SHORTS. And made a helpful breakdown of the best shorts for each body type, so you don't have to.
WE ASKED A WOMAN WITH GREAT TASTE HOW TO CULTIVATE OUR OWN. According to Condé Nast Traveler editor-in-chief Pilar Guzmán, good taste should be more indicative of your eye than your income.
WE SPENT A WEEKEND HEEDING THE ADVICE OF KATE BOLICK. She guided the Cut's Allison P. Davis through a Tinder-free time of independent modern womanhood.
WE REVISITED THE BEST COMMENCEMENT SPEECHES OF ALL TIME. Including highlights from speeches by Hillary Clinton, Toni Morrison, Zadie Smith, and more.
WE TACKLED A CONUNDRUM FOR THE AGES. What should you do if you hate your friend's boyfriend?
WE HEARD FROM MADELEINE ALBRIGHT ABOUT HOW WORKING IN THE U.N. MADE HER STOP WORRYING ABOUT BEING LIKABLE. And got some tips on how to interrupt (men) effectively.
WE HAD VERA WANG SCHOOL US ON QUITTING. It doesn't necessarily mean you've failed — just that it's time to start something new.
WE CONSULTED SOME EXPERTS TO EASE OUR PARANOIA REGARDING BIRTH-CONTROL SIDE EFFECTS. And were reassured that there isn't really that much to worry about.
WE CONTEMPLATED WHY IT'S SO HARD TO FOLLOW YOUR OWN ADVICE. It's much easier to tell other people what they should do.
WE TALKED TO THE FOUNDER OF GIRLS WHO CODE ABOUT DEALING WITH FAILURE. Reshma Saujani reflected on various career setbacks, and how she overcame them.
WE GOT TIPS ON HOW TO DEFY YOUR OWN EMBARRASSMENT. Walk in like you own the place, says Diablo Cody — especially if your ex is in the room.
WE HAD CLUELESS DIRECTOR AMY HECKERLING REMIND US THAT WHAT PEOPLE THINK ISN'T IMPORTANT. Focusing on what you love will get you a lot further than obsessing over what's popular.
WE ASKED A BEAUTY EDITOR HOW YOU KNOW IF YOU'VE FOUND YOUR PRODUCT SOUL MATE. If you can live without it, keep looking.
WE HEARD FROM A FORMER WALL STREET EXECUTIVE ABOUT HOW TO ASSEMBLE A PERSONAL BOARD OF DIRECTORS. Sallie Krawcheck reflects on the importance of consulting peers with a diverse set of perspectives.
WE HEARD FROM A SELF-DESCRIBED ADVICE ADDICT. Lily Burana details her extreme counsel-seeking habit and what she's learned from it.
WE RECALLED SHOWBIZ ADVICE FROM THE MASTERS. Anna Davies remembers the days she used to write question-filled letters to Cherry Jones.