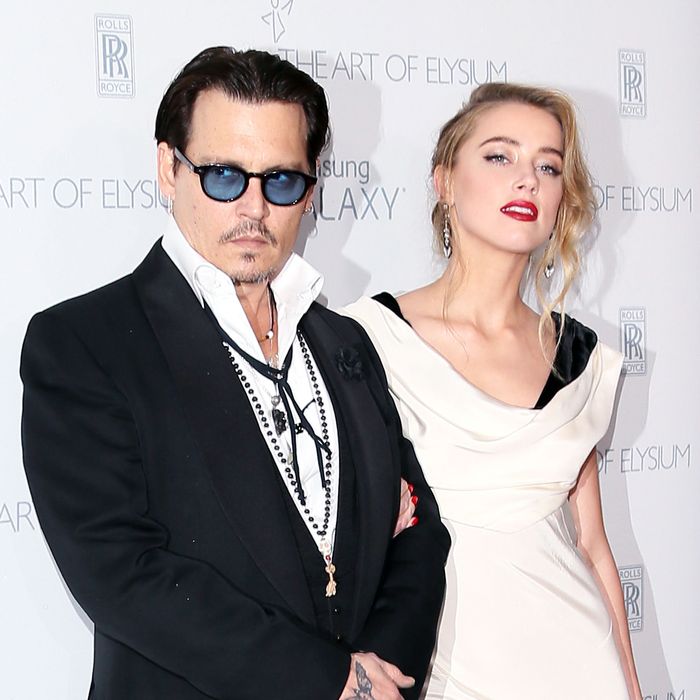 Johnny Depp, Amber Heard.
Photo: JB Lacroix/Getty Images
Johnny Depp's dog-smuggling fiasco seems unlikely to end quietly. This morning, Depp's wife, Amber Heard, was charged with illegally bringing the couple's two Yorkshire terriers into Australia — meaning she faces a maximum penalty of ten years in prison, as well as a fine of about $75,000.
Australian officials warned them about the seriousness of the couple's disregard for customs laws earlier this year, after it came to light that Depp and Heard had neglected to declare their two dogs, Pistol and Boo, while traveling into the country, where Depp has been filming the fifth installment of Pirates of the Caribbean. The Department of Agriculture was not amused — and in May, they threatened to kill the dogs if they did not leave the country within 72 hours. Luckily, Pistol and Boo fled via private jet just in the nick of time.
Because the dogs were deported in a timely fashion, an Australian attorney told the AP that it's unlikely Heard will receive a lengthy jail term. Heard, who has also been charged with producing a false document (the incoming passenger card on which the couple failed to mention the dogs), was issued a summons to appear in a Queensland court on September 7. It's unclear whether this means that Depp is off the hook — the prosecutor's office has not responded to questions about why he wasn't charged.