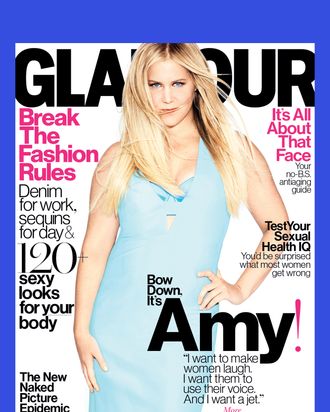 Photo: Matt Irwin/Glamour
Amy Schumer has landed her first major women's magazine cover. Here she is on the cover of Glamour, looking very pretty, like she's all ready to star in a rom-com. (Which she kind of is, albeit a delightfully raunchy one — Trainwreck opens next week.)
In the accompanying interview (conducted by her sister, Kim Caramele), Schumer offers these little wisdom nuggets about body confidence and sex:
For women, we're taught to eat less until we disappear. And trained to believe that if you don't look like everyone else, then you're unlovable. And men are not trained that way. Men can look like whatever and still date a supermodel. I'm proud of what I said. I think it's good to see somebody saying: I have a belly. And I have cellulite. And I still deserve love. And to catch the old D. And to not apologize.
Now that we've learned to unapologetically "catch the old D," Schumer also wants to make sure we enjoy it. Her No. 1 sex tip: 
"Do what you feel you want to do while also considering how you'll feel the next day … Don't not have an orgasm. Make sure he knows that you're entitled to an orgasm. I like to say it. I'll be like, 'Hey, there are two people here.' I'll be like, 'Oh my God, have you met my clit?' Don't be self-conscious."

Somebody, please screen-print that on a poster so we can hang it over all the beds.