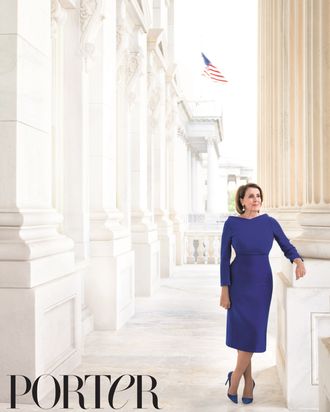 Photo: Jason Schmidt, Courtesy PORTER Magazine
While we all eagerly wait to see if another Hillary Clinton Vogue cover materializes, Porter magazine is getting its own share of political clout. In a spread in its Fall Fashion Issue, on sale globally on July 31, House Minority Leader Nancy Pelosi confesses to a bit of an online-shopping habit. World leaders: just like us, at least in this particular case.
One time, when we were in Paris, my husband took me to Avenue Montaigne and he wanted to buy me a dress. I thought, why is he doing this? I don't like to shop! That's why the magazine [PORTER] appeals to me. You just press a button and there it is!
Like magic! Now someone tell her about one-click ordering.