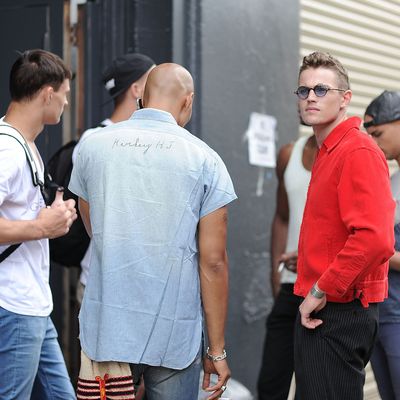 Photo: Daniel Zuchnik/Getty Images
After years of speculation, men's fashion week finally kicked off in New York this summer. Designers like Public School and Calvin Klein have been showing all week, but as the fourth and final day of shows wraps up today, it turns out many New York men didn't even know it was happening. The Cut polled 100 men in lower Manhattan, and only 31 had any idea there's now a New York Fashion Week: Men's. Those who did know about it mostly worked in fashion-related fields like PR or modeling, but some were simply adamant that men's fashion is having a moment. "We have a new genre of men who are more conscious of their identity, their appearance," said Eric, a 57-year-old bartender. "Men have become very fashion-forward."
Joseph, a 20-year-old student, agreed, pointing to the way men now follow Kanye's style. And Brandon, 22, seemed to think it was only fair: "If there's a women's one, they've got to cater to men's fashion," he said. Still, most of the yeses came from those who had seen the news scrolling through Twitter or Instagram, or on the Erik Madigan Heck–styled ads around the city.
As for the 69 negative responses, most started with a "Really?" followed by a laugh. A few said they would check it out, but the response from Anton, a 32-year-old yoga teacher, summed up most people's sentiments: "I guess I don't really care!" Alex, a 21-year-old artist, supported the idea but only got some of the details right: "I was hearing my friend who's in the magazine business posting a whole bunch of stuff about men's week, but I didn't realize that that meant men's fashion week," he said. He thought it was about an "embrace of manhood." No, honey, that's every week.
Additional reporting by Jack Holmes.