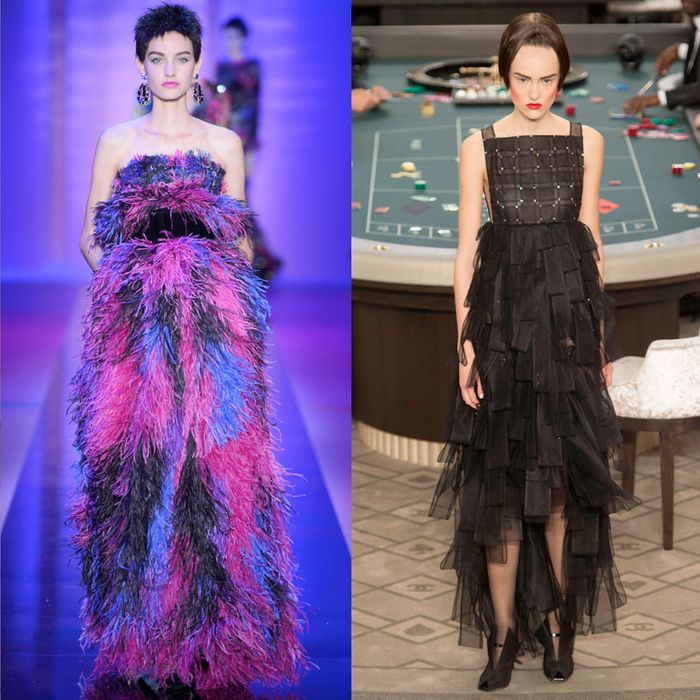 If you're Karl Lagerfeld and reality is no object, why not bring Monte Carlo to the Grand Palais? That's what the designer did at today's Chanel couture show, where logo-covered slot machines stood cheek by jowl with celebrity craps players (notably Kristen Stewart). Between the games of chance and the cigarette holders, the collection felt like a cheeky celebration of vice, and the clothes were unapologetically ostentatious. Feathers, cascading beads, ruffles, 3-D-printed elements — bring it on! Even the more staid offerings, like his takes on the house's classic tweed suit, rendered here in mesh, were imbued with a bit of shine. It was all in keeping with last season's shift back to unabashed glamour after couture designers, Lagerfeld included, memorably dabbled in athleisure — with even the humble flip-flop getting the made-to-measure treatment.
"Shocking" was the title of Giorgio Armani's latest collection for Armani Privé. The designer may be celebrating his 40th anniversary, but it's nice to see that he can still, well, shock, with a punchy color palette, plenty of sparkle, and sweeping tinsellike fringe. It was all set against a hot-pink carpet, though it's sure to migrate to a red one soon. Like his couture compatriots, Armani seemed to be taking full advantage of the craftsmanship available to him, not to mention the medium's power to transmit a fantasy.
A tamer take on couture extravagance could be seen at Bouchra Jarrar. The designer graduated from guest status to full-fledged member of the Chambre Syndicale a year and a half ago. Jarrar's floor-length vests and sweeping coats represented the sportier side of couture, but she was sure to have a little fun along the way, on a gown whose bodice was half-covered with beading, or in lashings of pastel fur and sequins. Call it couture for the real world — or the closest thing that exists to it in this haute sphere.
See the full Chanel fall 2015 couture collection here.
See the full Armani Privé fall 2015 couture collection here.
See the full Bouchra Jarrar fall 2015 couture collection here.