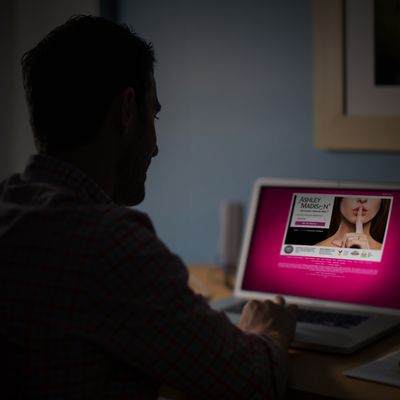 Photo: Photo Illustration: Chad Springer/Getty Images, Ashley Madison
Adulterers nationwide shuddered when it was reported last week that Ashley Madison — dating website for cheating and "discreet encounters," which says it has 37 million users — had been hacked. The anonymous culprits said they'd hacked the site to protest the fact that the $19 the site charged users who wanted a "full delete" of all their information didn't really lead to all the info being deleted. The site said, in turn, that the "hard delete" really did what it promised, but that they were making it free — and also that they were beefing up their security.
All that aside, why would people take the risk of tying their credit card info to such a site? We spoke to two users, a man and a woman, about what brought them to the site and what they've found there.
Thomas C., Washington, D.C.
I am not surprised that reporters are paying massive attention to this story … and to be honest, even I am worried that my past personal data will be leaked. I was a "cautious" user of Ashley Madison at first … it was evident that the overwhelming majority of users were men, and I think that the website itself may have been intentionally polluted with fake female ads to lure in more guys. I got the impression from online forums before I joined the site that Ashley Madison has an equal number of married and single male members — the single guys, of course, just being opportunistic.
After exchanging messages with three different individuals, I finally had a "hookup." Interesting to note that the first person I messaged with turned out to be a gay guy, the second was a prostitute, and the third one got the jitters before we ever graduated to personal email [or] phone calls. Well, what can I say? Ashley Madison is essentially a playground for bored, horny middle-class men — but sometimes even playtime has consequences. Through the site, I finally had an affair with a married woman in a neighboring city. The affair lasted roughly four and a half months. The spouse of the woman I was having an affair with caught us — literally — in the act. Not only did I end up in a fistfight in front of the hotel, he made sure to eventually get my personal information, and he contacted my wife. That led to my marriage of seven years [going] down the drain. Look at me now: on Craigslist, looking for a cheap personal encounter. I wish I had never encountered "Ashley."
 A., 41, female, California, married with kids
I've used the site because I like sex and it is a lot of fun. I like different things with different guys, and I want to see what is out there. I wanted to experiment. I have been with my husband since I was young. We have sex about one time per month. He doesn't have a ton of interest in sex.
I had experiences before him, and I missed some of those. So this was a way for me to get more experiences. So I just put up a picture of myself. Nothing too fancy. And the men replied like crazy. It was actually almost too easy!
I did get what I wanted. Most of the men were very polite and respectful. They understood boundaries, but in bed they were nice and rough. I have tried with my husband, but he is just not rough enough with me — he cannot be forceful enough or make me do some of the things I really want to do. I have tried. He simply can't be that degrading to me. I like it rough; I like being smacked. I get off on being called a cunt or a slut. Humiliation turns me on. I don't know why that's hot to me. Should I blame my dad? I just enjoy the way it feels when a man treats me like that, enjoys my body, and then is done. And it makes sex with my husband different because it's more sensual, more caring.
I am a bit worried about the site now that it's been hacked, but I'm not overly concerned. I don't think my husband knows about my using the site, and I would like to keep it that way. But I suspect hackers are more interested in the men's financial data than some horny housewife.
Anyway, I haven't been using the site as much anymore. I have a regular group of guys I meet with, and they mostly keep me satisfied. I do not feel guilty about doing this. I have considered asking my husband for an open relationship, but I don't think I could handle him being with other women. That sounds bad, I know, but it's how I feel.