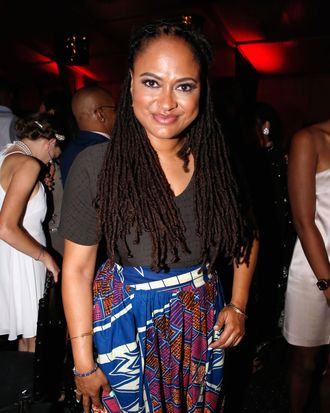 Ava DuVernay.
Photo: Johnny Nunez/Getty Images for Rush Philanthropic Arts Foundation
This past weekend, director Ava DuVernay told a crowd of bloggers at the BlogHer conference closing keynote that her lightbulb moment transitioning from a career in publicity to filmmaking happened when she learned to follow the white guys.
"It was so pie-in-the-sky, like, 'Oh, you're going to direct a film?'" she panned. "I wanted to do it, but the voice in your head says you're not qualified, or people will laugh, or you don't have permission to do this. So I just started to watch white men, and I was like, 'They're fantastic! They do whatever the hell they want! They do what they want, say what they want … really?!'" (Yes, really.)
Of course, she clarified, not with "a sense of ego or a sense of privilege, but with a sense of personhood. Like, I can also ask for what I want; I deserve to also do what I want to do, and try to step into something unafraid. I thought, Okay, well, maybe I'll try it."
DuVernay, who has spoken out in the past about pushing back against this culture of permission "somehow embedded in our DNA" for women and people of color, is passionate. "That's how women have been trained in our society, to ask for what we want instead of taking what we want. But that time has passed." It's a brand of "I'll-have-what-he's-having" or "if-you-want-it-come-and-get-it" girl power, at least the way DuVernay speaks about it.
"Truly, they've got this thing wired. Too often we live within their games, so why would you not study what works? Take away the bad stuff — because there's a lot — and use the savvy, interesting stuff and figure out how that can apply. It's a good one for the ladies."