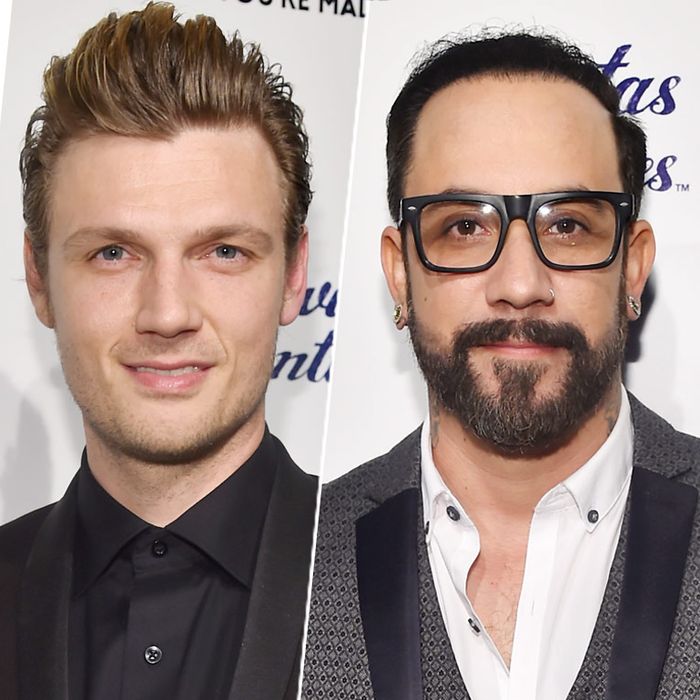 Imagine the magazine cutouts hanging in your teenage bedroom: the angelic faces of boy bands plastered across your walls, their puny arms and shaggy hair strumming every chord in your overly hormonal body. Now imagine those same heartthrobs more than a decade later, a little bit bloated and with less hair, starring in a made-for-TV movie about zombies. Welcome to 2015!
Entertainment Weekly reports that members of beloved boy bands the Backstreet Boys and *NSYNC are teaming up to star in a zombie movie for the SyFy channel called Dead 7. Nick Carter, everyone's favorite baby-faced BSB member, wrote and directed the movie. He'll star in it with his wife, Lauren Kitt, and fellow BSBer AJ McLean and *NSYNC's Joey Fatone*. According to a release:
Dead 7 is the story of a ragtag band of gunslingers who must rid a small town of a zombie plague in a post-apocalyptic West. Carter will play Jack, the reluctant hero who unites the outlaws to face the zombie menace.
The movie will continue a decade-long Backstreet Boys obsession with zombies. Lest we forget, the seminal video for their 1997 hit "Everybody" was also zombie-themed.

*This post has been corrected to show that AJ McLean is of the Backstreet Boys and Joey Fatone hails from *NSYNC, not vice versa. Thank you to our vigilant commenters and readers for their assistance.