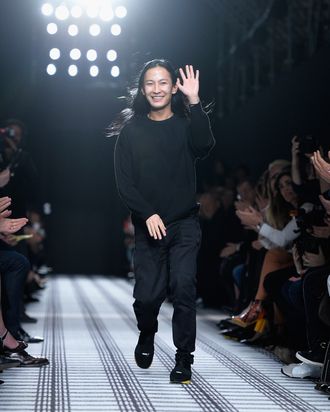 Photo: Pascal Le Segretain/Getty Images
For the past month, rumors have been percolating about Alexander Wang's contract talks with Balenciaga, where he's been creative director since 2012. And today, Women's Wear Daily has a report that the designer will take his last bow in September, for his spring 2016 collection. (When contacted for a comment, a spokesperson for Balenciaga parent company Kering told us, "Discussions are underway." We've also reached out to Wang, and will update this when we hear back.)
What's puzzling about the report is that Wang has been doing really well at Balenciaga — as in double-digit growth. He was hired for his accessories prowess, not to mention the cool factor he would bring to the position. The critical reaction has been mixed (from "fantastic" to "visibly struggling"), not that that's usually a factor when sales are so good. He's managed to stick the landing even on oddball statements like fur-lined sunglasses, and the marble prints from his fall 2013 collection kicked off a trend that's still trickling down today. It certainly wouldn't be, as so many of these breakups are, a case of dismissal for poor performance.
So why the (reported) parting of ways? It sounds like Kering might be going the increasingly popular "hire an intriguing nobody" route, one of WWD's sources suggested. After hiring the little-known Alessandro Michele at Gucci, the parent company "is open to considering a lesser-known, hidden talent for the plum post," according to the paper. (Yes, it's time to pour yet another one out for big personalities in fashion.) And given that Wang has been in contract talks with the parent company, it seems credible that salary is the sticking point. The good thing about outsiders: They don't come with as many demands.
Oddly, Wang's own notoriety was what made him such an attractive candidate in the first place. Long-haired, athleisure-wearing New Yorker meets cocoon-heavy Old World French fashion house — it had a romantic-comedy-style rightness to it, played up in much of the boy-meets-brand press surrounding his debut. Wang, who's one of the elite group of designers who gets recognized on the street, would lend his burnished cool-kid image and street-savvy aesthetic, while Balenciaga would provide the history. It's the kind of pairing (see also: Hedi Slimane and Saint Laurent, Jeremy Scott and Moschino) that could set off sparks. But it seems like that approach is falling out of favor.
Meanwhile, despite the fact that no official announcement has yet been made by either party, successor rumors have already popped up, with Paco Rabanne's designer Julien Dossena (who's buzzy but hardly a household name) already making the rounds. Leave it to this industry to already be on to the next big — or, depending on the candidate, small — thing.