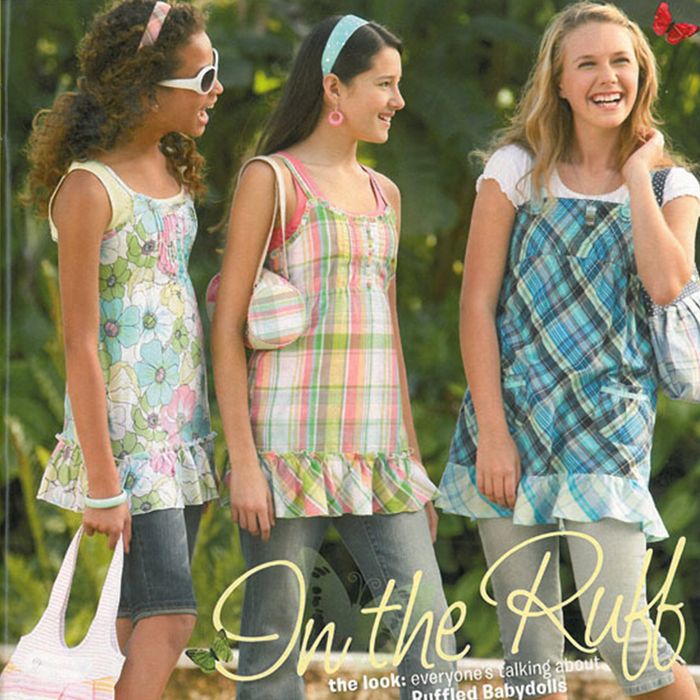 The most-formative years of a late-'90s middle-schooler's life — roughly 11 to 12 — could be chronicled by the dog-eared pages of her Limited Too catalogue. In millennial coming-of-age nostalgia value, it's a brand surpassed only by the now-defunct dELiA*s.
Limited Too was where a tween began learning to be a teen. Amid those racks of garish clothing, she asserted her identity by selecting graphic tees, learned independent thinking through the application of scented body glitter, and embraced trends that made her mom laugh behind covered hands (her mom denied doing this).
A history of this time can be told through variations on four Limited Too outfits:
Trying to talk to bra-wearing eighth-graders on the first day of middle school: White spaghetti-strap tank top with a built-in bra paired with bell-bottom jeans with pre-ironed-on smiling-flower, yin-yang, and peace-sign patches. (Great conversation starter, Mom said.)
Skating with boys at the first co-ed roller-skating mixer: Plaid bell-bottom pants (accompanied by the dawning realization that some pants make butts look better), long-sleeved top with an eight-ball decal prominently on the chest (to distract from lack of need for a bra).

Freak-dancing at the first official dance, followed by first post-dance sleepover: Hot-pink fuzzy sweater (friends wore green, neon-blue, and yellow versions), stretchy black flared pants, chunky black Steve Madden boots. Bonus points for acquiring blow-up furniture for sleepover guests to recline on during "who danced with who" post-dance gossip session.

Playing spin the bottle at the first basement party: Neon-blue fuzzy sweater (friends wore green, black, and yellow versions), pleated blue-and-yellow plaid miniskirt, black tights, pleather jacket. And a real bralette.
Before puberty catapulted me into adult Gap, before peer pressure convinced me doubling up on Abercrombie & Fitch polo shirts was a good idea, and before Brass Plum made me dress a little bit too slutty a little bit too soon, there was Limited Too. And now, after a brief hiatus during which the brand was sold and rebranded as "Justice," there will be Limited Too again. New stores open in fall 2016.