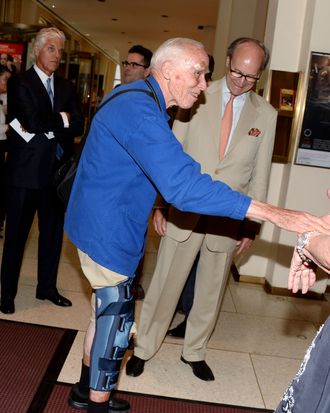 Photo: Clint Spaulding/Patrick McMullan
Attendees at Tuesday's Mostly Mozart Festival opening-night gala gasped when Bill Cunningham limped into Avery Fisher Hall with a cane, his right leg in a cast from ankle to thigh, visible under cutoff khaki pants and his trademark blue jacket.
The iconic New York Times columnist was his usual cheerful, industrious self, exchanging greetings with the city's power elite, his camera snapping away. "Oh, just a little tumble on the bike," Cunningham, who sported a Band-Aid above his right eyebrow, told the Cut with a shrug.
"It's just they put the brakes on the wrong way, and it clamped, and hit the curb and flipped me," the 86-year-old told us, while shooting photos. "It's the kneecap that got broken." He is not whining. "But it'll heal," he said. "It will heal."
Did he even miss a day of work after the accident? "No, no. Not at all." The bike, he says, is fine after the mishap.