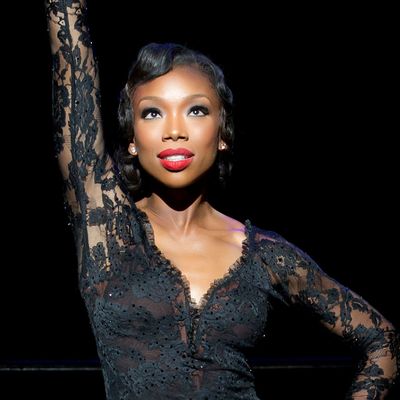 Underneath Roxie Hart's perfectly set finger-wave wig in the latest Broadway adaption of Chicago is an unexpected face: R&B singer Brandy, best known for the '90s hit "The Boy Is Mine." Brandy sat down with the Cut just a few days after going unnoticed on the subway to talk about how she took control of her life following a dark period of depression and what she's doing now.
What made you decide to do Chicago?
I did Cinderella when I was a bit younger, but this is my first Broadway musical. About six months before Chicago, I got into mental and physical discipline and changed my whole life around. I remember feeling like I was getting ready for something big, and then Chicago presented itself. I had always dreamed of being on Broadway, but I was never offered the right role until Chicago, which was perfect. Roxie Hart is such a versatile, colorful character.
How did that lifestyle change come about?
I was depressed for a little bit — actually, for a while — and I got tired of feeling sad. In order for my life to really change, I had to change what I was doing. I'm such an expressive person, I have so much to share, and I wasn't giving anything. I was just wasting time.
Do you feel like that kind of sadness comes back? How do you cope?
It's never coming back. I'll never allow myself to get back into that space. Everyone has moments when they don't feel excited or happy all the time, but where I was, I will never go back there.
I heard you got into meditation and a new fitness routine
It's affirmative prayer, it's meditation, it's definitely fitness, it's going to the gym. It's really about changing your mind and your thoughts, replacing negative thoughts with positive ones. When you practice positive thinking enough, the picture of your life starts to look a little bit different. That's just the way life works; it happens in your mind first.
What made you gravitate toward Roxie? How do you channel her character onstage?
Roxie is very strong. She's a dreamer. She sees her whole life in front of her: She wants to be a dancer. I feel like I'm in that place, too — I'm dreaming again for the first time in a long time.
As an actor, how do you separate your role as Roxie from your everyday life?
I don't know if I really come all the way out of it, because I'm Roxie Hart every single night. To make her authentic, there has to be a lot of me in her. A lot of my personality is expressed through her character — you definitely see me onstage.
I heard you're coming out with some new music soon. What's the inspiration for the next album?
Love, not the way I have experienced it but the way I want to experience it. I want to make R&B music. I want to make music that I feel inside of my soul, and I want to sing, sing, sing.
Does that mean you wouldn't say you're in love right now?
No. I'm love with me right now, for the first time ever.
How did you get to that point? How did you finally learn to love yourself?
When you make a commitment to do the spiritual work, the love for yourself starts to come. I didn't realize how much you need to love yourself to get through your life and be a good example as a mom, a friend, a sister, or a daughter. You need the love for yourself to be able to have great relationships with everyone else.
This interview has been condensed and edited.