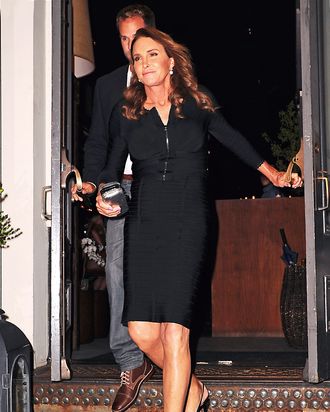 Photo: Sharpshooter Images/Corbis
Caitlyn Jenner is an Olympic athlete, beloved member of the Kardashian-Jenner dynasty, and a new face in the trans community. Now she can add another title to her résumé: professional blogger.
Jenner has partnered with WhoSay to pen a series of editorials focusing on trans issues, according to People. The series, titled "The Real Me," will include a weekly blog post written by Jenner that spotlights the "issues and people in the LGBT community." She writes:
I've heard every horror story there is in the book. You wouldn't believe the types of ordeals these people have had, how they have had to literally fight for their own survival. Many trans teens are bullied and abused in high school. It's just horrendous. Then there's the other dark side of this issue — did you know that nearly 25 percent of the women in high-end sex business are reportedly trans women?

Seeing how my new friends have overcome their adversities is such an inspiration. They are so well-adjusted and smart. I'll be sharing their stories here in the coming weeks, and I can't wait for you to get to know them. They are just like you and me.
Jenner has faced mounting criticism about the privileged position she holds as a white, wealthy member of the community; by writing about the "dark side of this issue," it seems she plans to address that criticism.