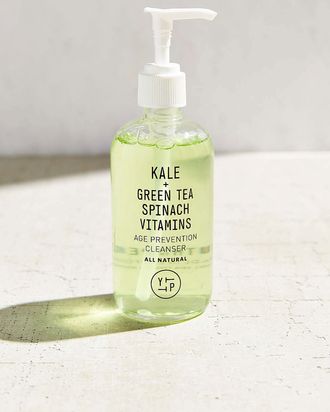 Youth to the People's cleanser.
Photo: Urban Outfitters
As a Midwesterner who became a New Yorker only recently, green juices are still a foreign territory that I don't yet understand. I'm told green juices are great for the skin as well as "delicious," if delicious is a loosely applied term that means better than dirt. So basically, I'm not a fan — but that hasn't stopped me from trying other alternatives to harness the skin benefits of green goods. One of those alternatives is Youth to the People's Age Prevention Cleanser, a face wash crammed with leafy greens intended to give skin a radiant glow.
The gel cleanser (the first available from the new beauty brand) is a medley of actual veggie juice, including cold-pressed kale and spinach, blended with green-tea and aloe extracts. It smells like a green juice, too, which makes me all the more grateful that it goes on my face instead of down my throat. Youth to the People says that the vitamins from the greens, which include vitamins A (skin-strengthening), B (moisture-retaining), C (skin-brightening), and K (dark-circle-eliminating) work together to prevent signs of aging and remove environmental toxins from the skin. The magic green juice is also said to clear dirt from pores, and, at the very least, remove makeup.
I found that the cleanser cleaned my skin well without leaving my face dry. It was also soothing, likely thanks to green tea's calming, anti-inflammatory properties. Though I didn't notice a difference in my skin's luminosity and pore size, the cleanser did remove my makeup — even mascara — without burning my eyes. Vegan and paraben-free, it's a solid cleanser that gets the job done. Plus, in a pretty glass bottle that says"KALE," it's just what my apartment needs to tell visitors that I too can now appreciate green juice.
Youth to the People Cleanser, $36 at Urban Outfitters.