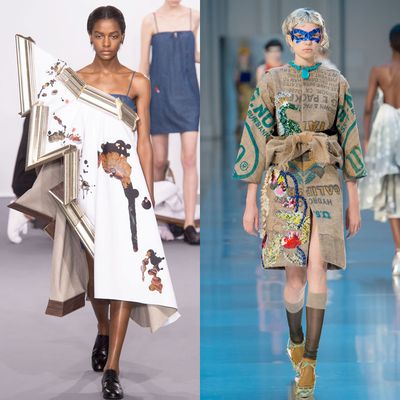 Couture is often referred to as a celebration of craftsmanship, but in the right hands, it can be art. Two design houses took that as a rallying cry at the haute couture shows today — one proving that even our cast-off detritus can be molded into something runway-worthy, and the other taking fashion-as-art to its most literal extreme.
Presenting his artisanal collection for Maison Margiela, John Galliano built on the bricolage aesthetic of his most recent ready-to-wear collection, challenging us to see printed burlap and plastic bags as stand-ins for more traditional couture materials like Lesage lace and Desrues buttons. It was a move in keeping with founder Martin Margiela's penchant for designing with humble materials — he famously made clothes from everyday items like butchers' aprons, gaffer tape, playing cards, and the beaded seat covers favored by taxicab drivers. With their faces smeared Yves Klein blue and optic white, Galliano's models wore flotsam and jetsam elevated to the level of high art by the designer and his army of lab-coated talents. (In keeping with the gender-inclusive zeitgeist, he snuck three male models into his lineup.) And as for his couture bride? She was dressed in a wedding gown made from plastic bags, which seemed to be the designer's way to invoke the status quo while also gently thumbing his nose at it.
If anyone should be making an argument for the artistic validity of couture, it's Viktor & Rolf designers Viktor Horsting and Rolf Snoeren, who recently left ready-to-wear to focus on that segment of their business (along with their fragrances). And they've certainly embraced the medium's dizzying potential. For today's outing at the Palais de Tokyo, the art reference was an utterly straightforward one: As in, the models wore elaborately decorated gowns, complete with jutting gilt frames, that the designers then hung on the walls. The first few looks consisted of blank white "canvases," which then evolved into versions that were splatter-painted or embellished with intricate 18th-century-style portraits. ("Action painting meets Baroque" was one of the duo's inspirations, per their show notes.) Both the abstract and figurative designs were applied via a mix of embroidery, laser cuts, and appliqués, in keeping with Horsting and Snoeren's love of technical wizardry. Like their best shows — spring 2010's chainsaw romp comes to mind — they let their creativity take the reins. Whatever lucky souls get to take these designs home had better treat them like the museum pieces they are.
See the full fall 2015 Maison Margiela couture collection.