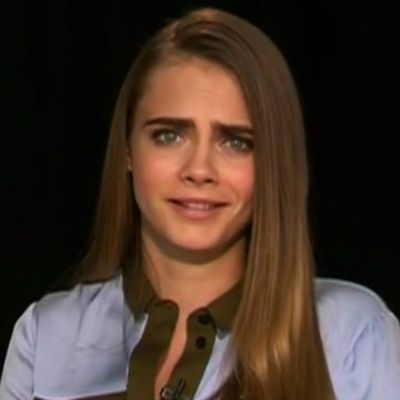 "Have you read the book?" begins a cringe-y interview between anchors of Good Day Sacramento and Cara Delevingne about the multitalented actress/supermodel/beatboxer's starring role in Paper Towns. "No, I didn't read the book or the script, actually — I kinda winged it," Delevingne snipes back, clearly annoyed that the hosts have opened an interview by underestimating her commitment to the project.
Delevingne's famous eyebrows are deployed to great sarcastic effect as the hosts cycle through awkward question after question, before finally giving up and outright accusing her of being exhausted.
"You do seem a bit irritated, perhaps it's just us!" one anchor observes, prompting Delevingne to pause for a moment before shooting back, "Yeah, I think it's just you."
Not content to let that be the end of this train wreck, the anchor concludes the interview with: "On that note, we'll let you go then, how about that, get a Red Bull, take a little nap, how about that?" Professional!
Delevingne eye-rolled her way through the end of the segment, but the Good Day anchors weren't done with her yet: After the satellite connection was closed, they played growling cat noises over a photo of her. Sit down, Sacramento.