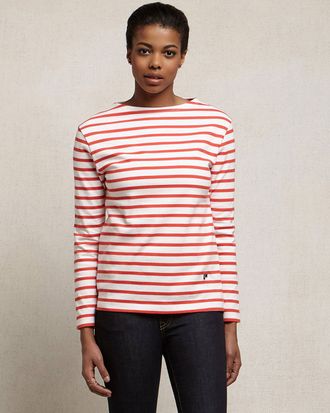 In honor of Bastille Day this week, we're celebrating with all things French-inspired.
When it comes to cool French style, there's really nothing that beats a striped marinère top like the ones favored by Brigitte Bardot, Jean Seberg, and pretty much every other stylish Parisian ingenue. Should you still be on the search for the perfect one, consider this red-and-white spin by cult brand Le Mont St. Michel. The company was founded by Alexandre Milan, who grew up working for his family-owned textile company before starting his vintage-inspired line. Try this classic with a crisp pair of white jeans or throw it on with your favorite denim shorts for a chic and casual weekend outfit.
Le Mont St. Michel Sailor Striped Shirt, $95 at Zady.