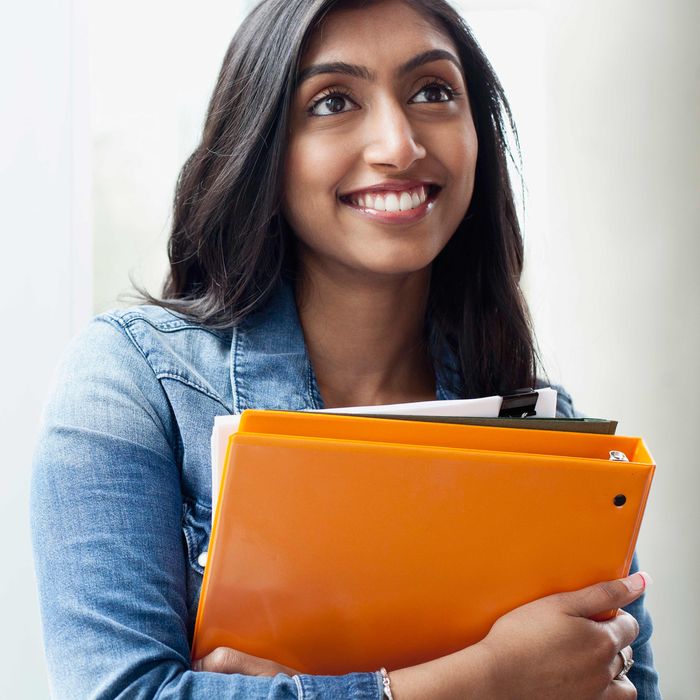 Photo: Hero Images/Corbis
College students are under so much pressure to appear perfect that different schools have developed their own names for the phenomenon. At the University of Pennsylvania, it's known as Penn Face, as in the face you put on when you want your friends and classmates to think you have your life together. At Stanford it's called the Duck Syndrome, because ducks hide their desperately paddling feet under the water when they swim.
This week, the New York Times ran a story about Kathryn DeWitt, a Penn student and former track star who nearly attempted suicide because she was so overwhelmed with the pressure to keep up appearances. Another Penn student, Madison Holleran, killed herself last year shortly after posting a cheerful photo on Instagram. Cornell's director of counseling told the paper that he believes social media exacerbates the problem, since students feel compelled to post smiling selfies even when they're struggling.
We asked seven college students and recent graduates to give us their own examples of a time when their seemingly perfect Instagram accounts belied what was really happening in their lives. Read their stories below.
Drew, University of Pittsburgh
I posted this on my 20th birthday. It's not a genuine smile. My boyfriend had broken up with me about three months prior. We'd started dating in high school, so everyone at home knew what happened, plus all my college friends and all of his friends at school, too. People thought I was doing badly (which I was) so my hope was that people would see me looking pretty and happy. I even made the pic my profile picture on Facebook for a while.
My anxiety and depression probably originated with the breakup, but then they spiraled. I started having panic attacks whenever I felt pressure to have fun. I had a panic attack in the middle of a set at Firefly Music Festival because I was so overwhelmed by the crowd. I posted a picture the next day like everything was fine.
Eventually I saw a psychologist and got on anti-anxiety medication that I have been taking since. The combination of the talk therapy and the medicine really helped. All of this happened at the end of my sophomore year, and balancing my anxiety with being social and doing well in school was so hard to handle. It helped to come back in the fall with a clean slate after working on myself at the end of the summer.
Sara, the University of Texas at Austin
In this picture, my ex and I had just celebrated our four-year anniversary. We were seniors in college in a long-distance relationship, and getting a lot of comments about when the wedding was going to be. It was nice being that couple that people looked up to.
I'd suggested going to this place, Santa's Wonderland. I love Christmas and I'd seen pictures of other couples there looking adorable. It turned out to be fairly expensive. He was outraged at the prices. I really wanted a picture in front of the Texas flag lights. He refused. I begged. He yelled. I called him out on his attitude. Eventually, we took the picture and left.
When I look back on that time, it's so sad. As a senior, I wanted to be the girl with the great job lined up, and the cute dog, and the perfect boyfriend. I'd already snagged the job and my dog really is the cutest, and I felt that being together with my long-distance high-school sweetheart was another way to show off how great my life was.
In college, you think about what life will be like five or ten years post-grad. But as soon as you graduate, the pressure comes off because you realize that no one has settled down and is making great money and getting married right away.
Jinah, Cornell
This picture is from the semester after I had to transfer from NYU to Cornell. I was at a friend's place on campus and we found these fun party hats so we started taking pictures with them. Today these people are some of my closest friends, but that period of my life was a pretty lonely time. I was social, people seemed to like me, but I still felt very alone. I think I took the picture to prove to myself that I was having a good time at Cornell, and to reassure my NYU friends, who knew me as a social and happy person, that I was having fun.
There's this expectation that college is supposed to be the best four years of your life. So to feel like I couldn't connect to these amazing people at this amazing institution spurred a "What is wrong with me?" mind-set. I think there's this stereotype that depression or deep loneliness only happens to people in tough situations, people who lack friends or are socially awkward. But it can happen to any person, sometimes for no reason.
Jenna, Cornell
I was on a wine tour with my friends, trying to be happy although I'd spent half the day crying. I was stressed over finals, worried about moving out of my college-town apartment, sad about my friends graduating and leaving, and terribly sad about my breakup with my boyfriend that week. I posted the photo because it was the first moment in the entire week when I'd found myself smiling. When I posted it, I subconsciously hoped that if I could convince others I was happy, then maybe I could believe it myself.
I definitely felt like I was under a lot of pressure in college, but it was self-imposed more than anything else. I used to say things like "I'm a privileged American white woman in an Ivy League institution. I don't have a right to be unhappy." How could I be unhappy when I had so much?
I have a different Instagram account now. It's much more honest. I kept the old one as a sort of yearbook, but when I look back at this picture I remember that it actually made me feel worse. Each "like" was an affirmation that people wanted to see me happy, adding more pressure to actually be happy. When you post something sad or depressing you get no support, no comments. Posting "happy" photos does the very opposite of what we want. I haven't done a photo like that in over two-and-a-half years.
Alexandra, NYU
I was at home visiting my family for a few weeks last summer, and an old college professor had invited me to his daughter's wedding reception. He'd been a mentor and helped me get into my journalism program. When I moved to New York, I felt like I was supposed to have all of these big stories and accomplishments to share, but I'd been getting cold feet about pursuing my master's in journalism. School was competitive, the city was scary, and all my friends had been getting prestigious internships.
And now, I was on my way to a wedding dinner where I'd be making small talk with all my professor's old business colleagues and their spouses, B.S.-ing about the best thing I read in The New Yorker. Also, I had just dip-dyed my hair purple on a summer whim and felt a bit childish. It was humid, I was running late, and wearing a dress I had grown out of. This selfie screams, "Look what a hip city girl I've become! I've got big plans! My hair is a crazy color!" Because that's what I was going for.
Skye, NYU
I had come to NYU with the intention of going straight into a Ph.D. program for psychology, but now I was taking all my hard classes — neuroscience, an advanced stat class, fieldwork — and for the first time, I was questioning my major.
School had always been my anchor, but I was liking it less and less. In my friend group I had always been the most motivated: I was on two research teams, I was vice-president of student government. I was going through the motions of being this really put-together psych student when I was starting to hate the field.
My boyfriend's ex was constantly stalking my Instagram and making fun of my appearance, so this photo was kind of like, "Hey. I like being me. I'm not scared of being vulnerable, and most of you are." She would rant about me on her Tumblr, and it was almost like I enjoyed reading mean things about myself. I really believed those things. I felt lost.
Having people close to me like the photo was affirming, but it wasn't affirming me as a person. It was affirming that my social presence was likable. And though I really wanted support, it didn't make any of my friends motivated to reach out to me.
Morgan, University of Georgia and NYU
Toward the end of my senior year of college, I decided that I had to leave Georgia, so I applied to grad school at NYU. I had always been type A. I'd outgrown the slow life in the South. But I was moving to a huge, anonymous city from a church- and grocery-store-filled suburb where I lived in a house with five of my best friends. I had no idea if I could make it in New York.
I came up here in July to look at apartments with a friend of a friend. A broker proceeded to show us apartments that were way over our agreed-upon budget. I had always been a leader and so confident, but now I was second-guessing everything. I had a lot to prove. And what's the best way to show off and be proud? Post to Instagram with a caption about how excited you are to be somewhere that actually is kind of the Boogie Man to you. I even sent it to my mom, and hand-typed the location. I wanted people to know I was making the permanent move there, and when they liked it, that made me feel like I had a "support team." Like if 30 people like it, then I can't let them down. But that just puts the pressure back on me
Looking back, I think I was in the process of shedding that first layer of my life — my comfortable, safe life in Georgia. It was intense and scary, but looking at me, you would never know.
Additional reporting by Stephanie Eckardt.