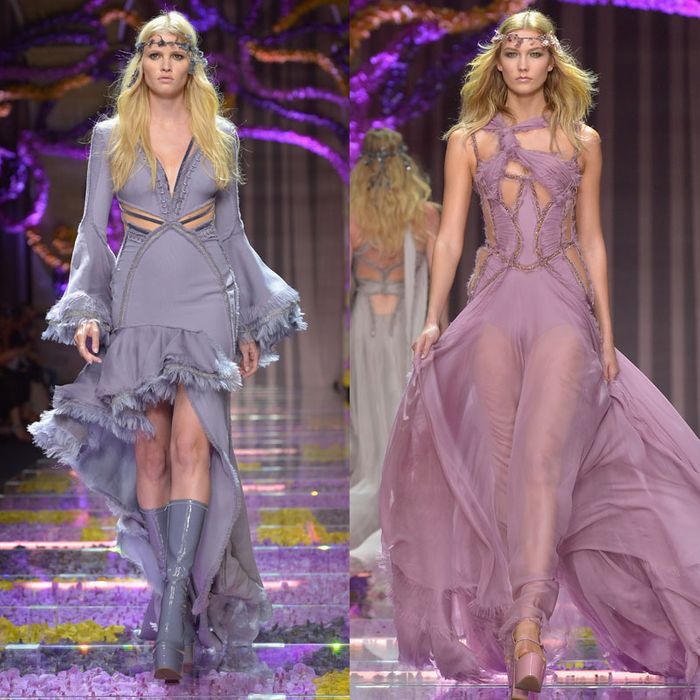 The couture collections kicked off in Paris yesterday with not one, but two garden parties, and an Atelier Versace show where models strutted down a Perspex runway that had 26,000 fresh-cut orchards encased in it. Designers are showing collections for next fall, of course, but perhaps global warming (not to mention the recent heat wave in Paris) had the industry channeling a much more summery mood.


Following Louis Vuitton's family-friendly picnic at the Vuitton family's historic home in Asnières — where the maison's ateliers are also housed — Ulyana Sergeenko hosted her presentation in Mona Bismarck's former Parisian residence overlooking the Seine. Sergeenko, who is perhaps best known for her street style, is a romantic at heart and loves to weave a detailed narrative around each collection — this time her heroines were the misplaced, eclectic characters that found themselves living in communal apartments in the Soviet Union in the 1920s. With this as her fodder, Sergeenko presented evening gowns that were neatly nipped at the waist and floor-length fur coats. She then progressed into more suggestive styles fit for the boudoir: a loosely fastened silk wrap and pajama-style suiting. Some of the more structured styles — a strapless dress with a fluted skirt, for example — looked cumbersome, but then couture plays by different rules and Sergeenko's many fans, Dita Von Teese included, will have plenty to pick and choose from.
At Atelier Versace, Donatella Versace was also swept away by romance: This season her usual sexpot with kohl-rimmed eyes was replaced by an army of supermodels — Lara Stone, Kendall Jenner, and Karlie Kloss among them. They channeled the '70s wild-child look, flower crowns and all. Sorbet-colored silk chiffon dresses had long skirts and sleeves with flowing, frayed hems and plenty of skin was on display as sheer fabrics were cut away to reveal corsetry and underwear. That famous thigh-high split was back as well — though perhaps best left to the likes of Kloss and company.