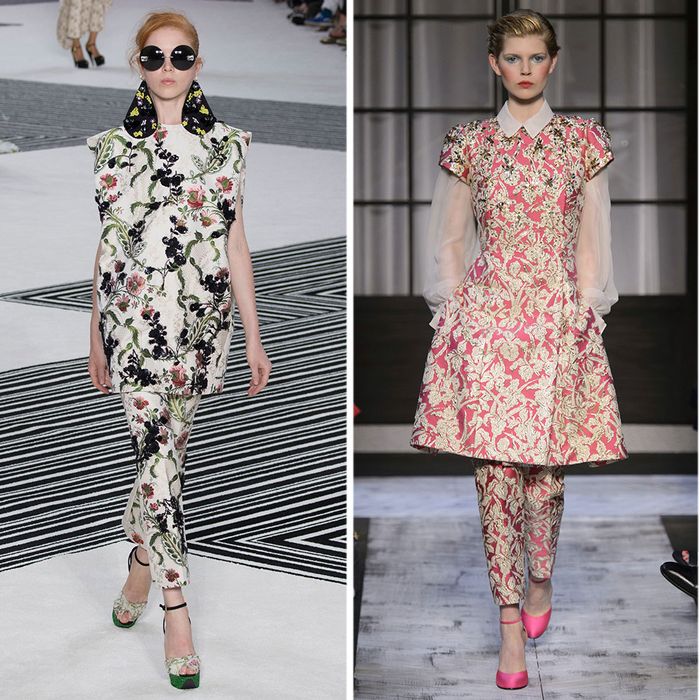 Left and Right Looks Giambattista Valli, Center Look Schiaparelli from their Fall 2015 collections.
Photo: Imaxtree
Trend-spotting at couture week is becoming a redundant sport. Yes, we could talk about organza ruffles, dazzling crystal embellishments, and embroidery that takes 100-plus hours to pull off, but then we'd be discussing those things at almost every show. Far removed from the need for "newness" (the obsession that shadows the ready-to-wear collections), haute couture is pure fantasy, a world in which dresses with 40-foot trains are a thrice-daily occurrence.
These clothes aren't for us — the media or the public — you see. They're for the lucky few who jet in for the week and order a seasonal wardrobe in one fell swoop. And there's something creatively freeing about that: For the designers, there's no sell-through to worry about and press reviews carry less weight. You can almost hear their collective sigh of relief. Instead of chasing "It" items, they get to have fun and tell stories with the clothes.
On Sunday, Ulyana Sergeenko took a trip to Russia in the 1920s, and yesterday, Schiaparelli's new creative director Bertrand Guyon (who's done time at both Givenchy and Christian Lacroix) transported us to 1930s Paris, specifically to the imagined Théâtre d'Elsa, named after the house's founder and modeled on Montmartre's famous Théâtre L'Atelier."When [Elsa] Schiaparelli came to Paris in the 1930s the theater was the center of creativity," Guyon told the Cut after the show. "Jean Cocteau and Christian Bérard were working a lot with playwrights and actors, and it was an incredible osmosis between all the artists of the epoch."
For his first outing, Guyon played it fairly safe, incorporating many of the house codes: the heart, sun, and padlock motifs, and, of course, that signature oh-so-shocking pink. But there was the suggestion of a more contemporary note, too. It was there in the shirting, the suiting, and, most of all, in the slim-cropped pants. These gave the collection a masculine edge, inspired, Guyon said, by the style of the photographer Lee Miller, who favored the simple lines and vertical silhouettes of Schiaparelli back in the day.
Giambattista Valli also looked to bygone muses this season. He imagined a woman as "free and exotic" as Talitha Getty and as idiosyncratic as Peggy Guggenheim. "I love to propose this imaginary conversation between two characters," said the designer, who's celebrating his tenth anniversary. It would be easy to imagine Getty lounging about in one of those chic brocade caftans, while his acid-colored evening dresses and bug-eyed glasses were pure Guggenheim. There was also plenty for the designer's so-called "Valli girls" — like Lee Radziwell, Jessica Alba, and Olivia Palermo, who were all front row — to take home, such as cocktail dresses constructed with embroidered macramé and a silk ruffled tulle skirt.
More difficult, yet worth the dramatic effect, were the finale ball gowns with their six-foot-long frothy skirts. How long did the finale dress take to make? "I like the idea of effortlessness, so if I say how long [it took], then I lose that," Valli said with a knowing smile. "Just think about it as a dream coming true."
See the full Giambattista Valli fall 2015 couture show here.