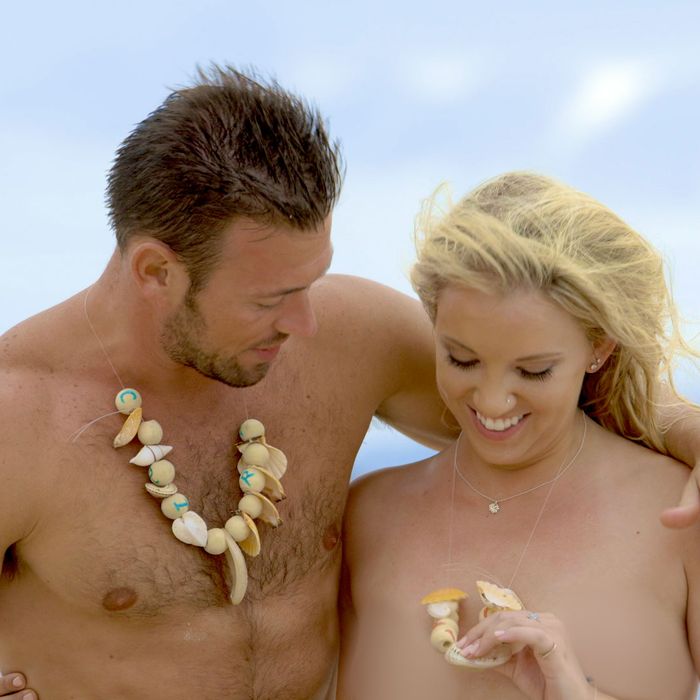 Rejoice! Dating Naked is back for another summer. And as exhilarating as that first season was — a boner on national TV, a lawsuit, and, of course, a naked wedding — VH1 has found a way to raise the stakes for season two. Is it possible to make a "radical dating experiment" even more radical?
Yes! By adding more feelings. Not more nudity, but more emotional stakes! This season, Dating Naked (which has been rebranded as Dating Naked: Playing for Keeps) has ditched the old format — two new singles per episode, three dates each — and instead will focus on two main singles, Chris and Kerri. For ten weeks, we'll stick with them while they go on two naked dates per episode. But a twist: At the end of each episode, they can decide to eliminate a naked rando, or keep them around for another week. So, while building a relationship with one another, they're also building an intimate relationship with other people. And we, the audience, are getting to build an intimate relationship with Chris and Kerri, whether we want to or not.
Kerri, 25, is a charismatic blonde from Ohio, who moved to Tampa for some reason. She's been burned in the past — her boyfriend of two years cheated on her. It's complicated, it was a bad move, and now, a year later, she's on this idyllic resort in the Philippines hoping to find love among the be-donged. I like Kerri: She seems very confident because she says things like "This is who I am, this is my body, I own it" and "I'm an adventurous girl with a great job. I'm a catch." But then she immediately undermines herself by saying, "I think." We can definitely count on her to cry a lot on this journey.
The Adam to her Eve is Chris, 27, a good old Connecticut bro living in San Diego. I won't spend too much time describing Chris, but in short: Do you know a white guy from Connecticut who likes Tough Mudder and beer? Cool, then you basically got Chris's M.O.

Chris and Kerri meet. They strip down. They both have great bodies. And if I can look directly at Chris's white ass without going blind, the next ten weeks will be a feast for the eyes! Their first date is with each other, so let's get to it.
Introductory Date: Chris and Kerri
It's interesting to see how these two deal with acclimating to their nude status. Chris repeatedly has to remind himself not to act like a drooling idiot, which makes me think he will end up acting like a drooling idiot, repeatedly. Kerri's approach to getting comfortable is to just share her deepest feelings, like, as long as I got my tits out, better expose all of my soul, too! Within in, like, 2.5 minutes she tells Chris about the worst time of her life (Rollerblading accident, temporary paralysis) and gazes off into the horizon, introspectively, while Chris drools.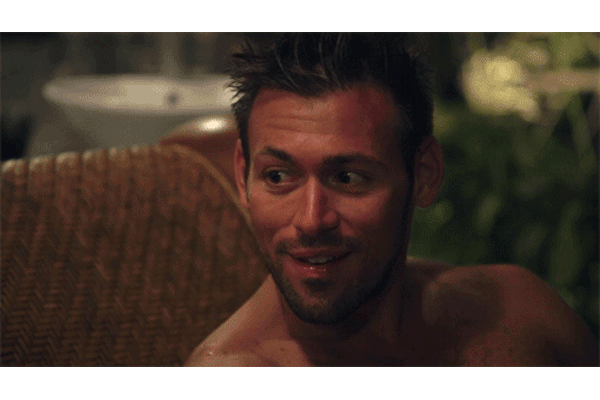 Anyway, the two have a little boating date and "discover" a pirate's chest with some arts-and-crafts projects inside. The trunk instructs them to send each other "first impression" messages in a bottle. I'm guessing Chris wrote "nice boobs" and Kerri wrote "I love you"; basically, they want to bang one another.

Post-date, they return to their island palace (this house is a serious upgrade from last season's digs) and Kerri tries to initiate Project Make Out by staring into Chris's eyes. He doesn't bite because "he's got something new around the corner every day" and "is hedging his bets." This, Chris, this is why we all die alone.  
Chris and Jenny:
Okay, Chris, let's see what's just "waiting around the corner," shall we? It's Jenny! Jenny seems pretty cool. She's not afraid to stare directly at Chris's dick. It makes him stutter. She's a babe who describes herself as a "nerdy 13-year-old boy in a titty suit." She's excited and surprised by her own boobs every day. She and Chris will have a lot in common. I worry just a little bit for Chris, though: He keeps describing her as a "wild child" and a "firecracker," which he feels is "attractive" but could also signal some sort of emotional instability.  

Anyway, the two go skim-boarding for their naked date and have a great time. Surprisingly, everyone looks really good skim-boarding in the nude. Just remember that.
Kerri and Norman:
While Jenny and Chris are swiftly falling into lust, Kerri meets her date: a nice fitness trainer named Norman. Norman is really into women because he was raised by mostly women. He does seem attentive. He asks Kerri a lot of questions right away — none of which she can actually answer, because she's so distracted by his cock ring. Yes. Cock ring. With no explanation.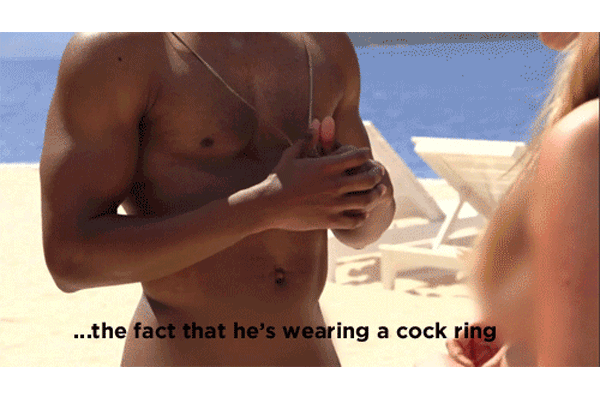 After snorkeling — wait seriously, a cock ring? — Norman forces Kerri to do some yoga in the sand, which is cruel and unusual. I'm sorry, Norman, you gonna explain that cock ring or what? Kerri basically can't wait to get back to Chris and — Norman! Explain yourself!
The quartet reconvenes back at the house and it's exactly what you'd imagine. Kerri goes nuts with jealousy. Firecracker Jenny finally goes off and rubs a swizzle stick from the bar between her butt cheeks then returns it to the glass of bar swizzle sticks. So, like, you know she's going home.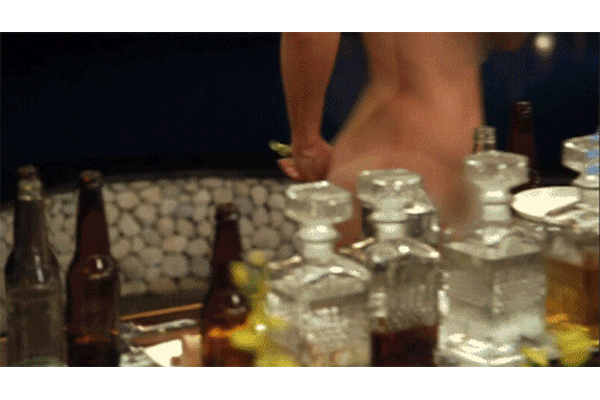 Kerri uses Jenny's meltdown to her own advantage and finally lands that kiss with Chris, thereby fortifying their connection.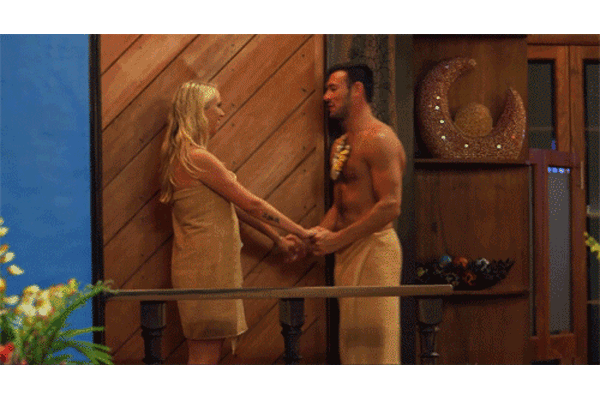 And finally, finally we hear about Norman's cock ring. He calmly explains that it's weighted. It's just, you know, penile fitness. It makes his climax more intense. Gotta hand it to him: He's prepared.
Date 2:

Chris and Angie:
Chris got a kiss from Kerri, but maybe there are more kisses around the corner? Maybe a kiss from, say, Angie, his beautiful second date. Angie is so awesome, she has a great fro, and she knows it. She wants a man, not a little bitch. And that knowledge of her awesomeness tends to make men insecure, which is why she's still single. It's the rule of Beyoncé, you know? Even though Awesome Angie is awesome, she's still incredibly nervous about being naked and looks like she might throw up. So Chris, whose butt hasn't gotten any darker even though it's been bared to the sun for days now, sweetly makes her feel more comfortable. It seems like the two might have a real connection! (Sorry, Kerri.) They have a pottery date and reenact Ghost.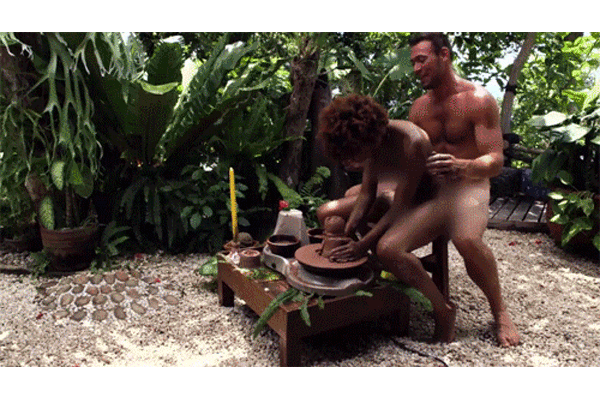 And then, after Chris got to push his junk up against a new friend, the two pop some Champagne in a tub and discuss their feelings. Angie tells Chris, "I want a man, not a little bitch," and that scares Chris. He whispers to himself (Don't be an idiot) and then responds to Angie by saying, "I love your hair, by the way," like every other bro-ham who wants to figure out how to connect with a black woman with natural hair. Thank God he didn't ask if he could touch it.
Kerri and Louie:
Kerri is still shaken up by her first cock-ring experience. (Seriously, Norman.) So she seems relieved when Louie walks up. Louie is old Brooklyn personified — all accent and hair gel. Also, he's a meat manager at a factory. (Thank you, VH1, for doing that for us.) Louie is very body-confident and knows how to make Sunday Sauce, a delicious Italian dish, which he describes in great detail while making cocktails in the nude. I am now certain there is nothing more erotic than a naked, ripped-ab man talking about meatballs in a red sauce. Kerri, naturally, is sprung. At first.
She quickly discovers that Louie might be a little too aggressive and starts whining about Chris again. (What's the big deal? He'll fight people in the club for you. I don't see a problem.) Listen, Kerri, we have ten weeks. This is going to get so boring.

Surprisingly, back at the house, Kerri starts to warm up to Louie, who is really a gentle soul beneath those rock-hard abs. She decides that this experience is about her, and her right to choose between two naked meatheads. So she lets herself fall recklessly in love with Louie for the night, and even falls asleep, naked, against his warm, sun-kissed chest. And now it's Chris's turn to wonder about "their connection." Played like a boss, Kerri. I underestimated you.

At the elimination ceremony, Kerri chooses Louie as her keeper (though we all know he's a distant second to Chris). Chris chooses Angie, who is genuinely surprised.

As for the losers, Jenny goes crazy in the most boring, expected way, and Norman, oh, Norman, reveals that something went very wrong with his cock ring. He will be wearing pants for the rest of his brief stay on the island.

So now there are four. Who will stick around? Will Chris and Kerri just fall in love with each other and get to romp on an island alone for nine weeks? Who knows!

But we do know this is the Most Awkward Naked Activity of the Episode: getting into a kayak.